Scotiabank Reaffirms Sector Perform Rating for Dream Global REIT (DRG.UN)
Scotiabank reiterated their sector perform rating on shares of Dream Global REIT (TSE:DRG.UN) in a research report released on Tuesday morning. They currently have a C$9.25 target price on the stock.
DRG.UN has been the subject of a number of other research reports. TD Securities increased their target price on shares of Dream Global REIT from C$10.50 to C$11.00 and gave the company a buy rating in a research report on Tuesday. National Bank Financial reissued an outperform rating and set a C$9.75 target price on shares of Dream Global REIT in a research report on Monday, August 8th. Two analysts have rated the stock with a hold rating and three have given a buy rating to the stock. The company has a consensus rating of Buy and an average target price of C$9.76.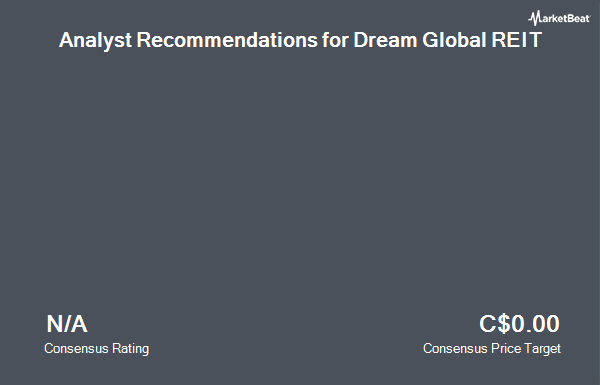 The business also recently declared a monthly dividend, which was paid on Tuesday, November 15th. Shareholders of record on Tuesday, November 15th were issued a $0.0667 dividend. The ex-dividend date of this dividend was Thursday, October 27th. This represents a $0.80 dividend on an annualized basis and a dividend yield of Infinity.
Dream Global REIT Company Profile
Dream Global Real Estate Investment Trust (Dream Global REIT) is an open-ended real estate investment trust. The Trust provides investors with the opportunity to invest in real estate exclusively outside of Canada. Dream Global REIT's portfolio comprises office, industrial and mixed-use properties located in Germany and Austria.
Receive News & Stock Ratings for Dream Global REIT Daily - Enter your email address below to receive a concise daily summary of the latest news and analysts' ratings for Dream Global REIT and related stocks with our FREE daily email newsletter.