Patrick Industries Inc. (PATK) President Andy L. Nemeth Sells 6,000 Shares
Patrick Industries Inc. (NASDAQ:PATK) President Andy L. Nemeth sold 6,000 shares of the stock in a transaction dated Thursday, November 17th. The stock was sold at an average price of $67.00, for a total transaction of $402,000.00. Following the transaction, the president now owns 61,210 shares of the company's stock, valued at $4,101,070. The transaction was disclosed in a filing with the SEC, which is available through this hyperlink.
Shares of Patrick Industries Inc. (NASDAQ:PATK) opened at 66.95 on Friday. Patrick Industries Inc. has a 52 week low of $29.28 and a 52 week high of $69.53. The firm has a market capitalization of $1.03 billion, a P/E ratio of 19.42 and a beta of 1.22. The company has a 50-day moving average of $60.74 and a 200 day moving average of $59.33.
Patrick Industries (NASDAQ:PATK) last announced its earnings results on Thursday, October 27th. The company reported $0.79 earnings per share for the quarter, topping analysts' consensus estimates of $0.76 by $0.03. Patrick Industries had a net margin of 4.60% and a return on equity of 35.44%. The business earned $304.20 million during the quarter, compared to the consensus estimate of $280.60 million. The company's quarterly revenue was up 41.6% compared to the same quarter last year. Equities research analysts anticipate that Patrick Industries Inc. will post $3.59 earnings per share for the current year.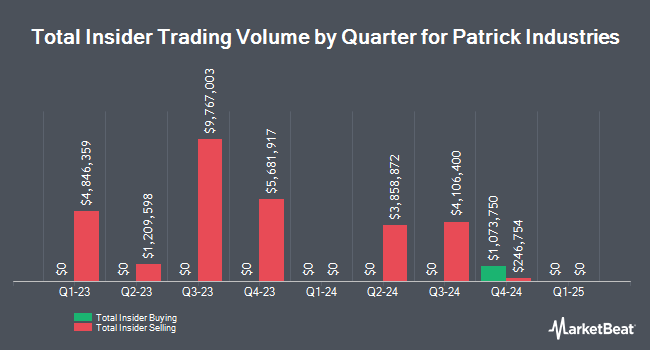 Separately, CL King upgraded shares of Patrick Industries from a "neutral" rating to a "buy" rating in a research note on Wednesday, August 17th.
Patrick Industries Company Profile
Patrick Industries, Inc (Patrick) is a manufacturer of component products and distributor of building products and materials for the recreational vehicle (RV) and manufactured housing (MH) industries. The Company operates in two segments: Manufacturing and Distribution. The Company's manufacturing segment's lamination operations utilizes various materials, such as lauan, medium density fiberboard (MDF), gypsum, and particleboard, which are bonded by adhesives or a heating process to a number of products, including vinyl, paper, foil and high-pressure laminates.
Receive News & Stock Ratings for Patrick Industries Inc. Daily - Enter your email address below to receive a concise daily summary of the latest news and analysts' ratings for Patrick Industries Inc. and related stocks with our FREE daily email newsletter.