Dorchester Minerals LP (DMLP) Director H C. Allen, Jr. Acquires 1,062 Shares of Stock
Dorchester Minerals LP (NASDAQ:DMLP) Director H C. Allen, Jr. purchased 1,062 shares of the business's stock in a transaction that occurred on Wednesday, November 16th. The stock was bought at an average cost of $15.62 per share, for a total transaction of $16,588.44. The transaction was disclosed in a document filed with the SEC, which is available at the SEC website.
Shares of Dorchester Minerals LP (NASDAQ:DMLP) traded up 4.3881% during mid-day trading on Monday, hitting $16.6499. The company had a trading volume of 47,945 shares. Dorchester Minerals LP has a 12-month low of $8.57 and a 12-month high of $17.95. The firm has a market cap of $510.74 million, a PE ratio of 41.2126 and a beta of 0.80. The firm's 50 day moving average is $15.67 and its 200-day moving average is $14.76.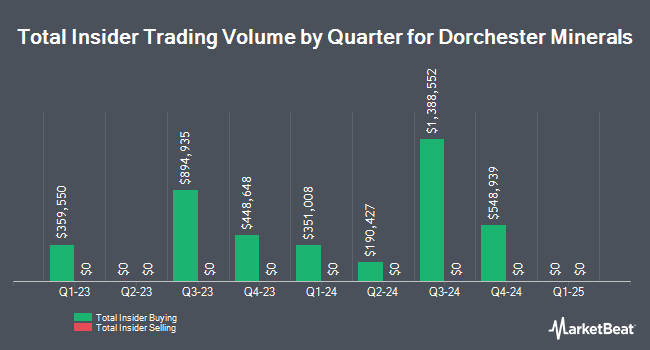 The company also recently announced a quarterly dividend, which was paid on Thursday, November 10th. Shareholders of record on Monday, October 31st were issued a dividend of $0.2522 per share. This represents a $1.01 dividend on an annualized basis and a yield of 6.19%. The ex-dividend date was Thursday, October 27th.
About Dorchester Minerals
Dorchester Minerals, L.P. is engaged in the acquisition, ownership and administration of Royalty Properties and net profits interests (NPIs). The Royalty Properties consist of producing and non-producing mineral, royalty, overriding royalty, net profits and leasehold interests located in approximately 570 counties and parishes in over 30 states.
Receive News & Stock Ratings for Dorchester Minerals LP Daily - Enter your email address below to receive a concise daily summary of the latest news and analysts' ratings for Dorchester Minerals LP and related stocks with our FREE daily email newsletter.