Jefferies Group Reiterates "Underperform" Rating for AA PLC (AA)
AA PLC (LON:AA)'s stock had its "underperform" rating reiterated by equities researchers at Jefferies Group in a report issued on Thursday.
A number of other brokerages have also recently commented on AA. Morgan Stanley reissued an "overweight" rating and issued a GBX 360 ($4.50) price target on shares of AA PLC in a research report on Wednesday, November 9th. Berenberg Bank dropped their price target on AA PLC from GBX 350 ($4.37) to GBX 315 ($3.94) and set a "buy" rating on the stock in a research report on Thursday, October 27th. Finally, Liberum Capital reissued a "buy" rating and issued a GBX 375 ($4.69) price target on shares of AA PLC in a research report on Tuesday, October 4th. One analyst has rated the stock with a sell rating, one has issued a hold rating and four have assigned a buy rating to the company's stock. The company presently has a consensus rating of "Buy" and a consensus target price of GBX 360 ($4.50).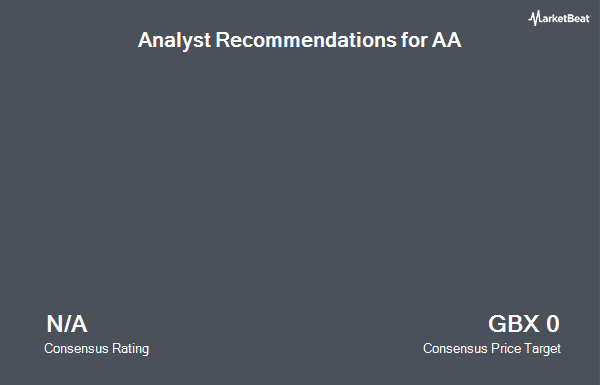 Shares of AA PLC (LON:AA) opened at 262.2000 on Thursday. The stock's market capitalization is GBX 1.60 billion. The company's 50 day moving average price is GBX 264.67 and its 200-day moving average price is GBX 268.57. AA PLC has a 12 month low of GBX 209.50 and a 12 month high of GBX 315.20.
In other news, insider Martin C. Clarke acquired 200,000 shares of the firm's stock in a transaction that occurred on Wednesday, September 28th. The stock was bought at an average cost of GBX 293 ($3.66) per share, for a total transaction of £586,000 ($732,133.93).
About AA PLC
AA plc (AA) offers roadside assistance service. The Company's segments include Roadside Assistance, Insurance Services, Driving Services, Ireland, Insurance Underwriting and Head Office costs. The Roadside Assistance segment sends patrols to members stranded at the side of the road and repairs their vehicles.
Receive News & Stock Ratings for AA PLC Daily - Enter your email address below to receive a concise daily summary of the latest news and analysts' ratings for AA PLC and related stocks with our FREE daily email newsletter.