Nacco Industries Inc. (NC) Plans Quarterly Dividend of $0.27
Nacco Industries Inc. (NYSE:NC) declared a quarterly dividend on Monday, November 21st. Investors of record on Thursday, December 1st will be paid a dividend of 0.2675 per share on Thursday, December 15th. This represents a $1.07 annualized dividend and a yield of 1.14%. The ex-dividend date of this dividend is Tuesday, November 29th.
Shares of Nacco Industries (NYSE:NC) traded up 4.91% during trading on Monday, reaching $94.00. 20,928 shares of the company traded hands. The firm has a 50-day moving average price of $74.85 and a 200-day moving average price of $63.45. Nacco Industries has a 12 month low of $40.04 and a 12 month high of $94.20. The firm has a market capitalization of $636.94 million, a PE ratio of 27.37 and a beta of 0.95.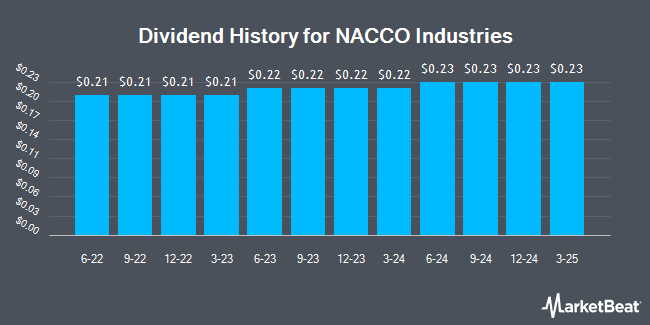 In other news, insider Mary D. Maloney sold 1,022 shares of Nacco Industries stock in a transaction that occurred on Wednesday, November 2nd. The shares were sold at an average price of $76.18, for a total value of $77,855.96. Following the transaction, the insider now owns 3,863 shares of the company's stock, valued at approximately $294,283.34. The sale was disclosed in a filing with the Securities & Exchange Commission, which is accessible through the SEC website. 29.93% of the stock is currently owned by insiders.
Separately, TheStreet raised shares of Nacco Industries from a "hold" rating to a "buy" rating in a research note on Wednesday, August 17th.
About Nacco Industries
NACCO Industries, Inc is a holding company with principal businesses, including mining, small appliances and specialty retail. The Company operates through three segments: NACoal, HBB and KC. Its subsidiaries include The North American Coal Corporation (NACoal), Hamilton Beach Brands, Inc (HBB) and Kitchen Collection (KC).
Receive News & Stock Ratings for Nacco Industries Inc. Daily - Enter your email address below to receive a concise daily summary of the latest news and analysts' ratings for Nacco Industries Inc. and related stocks with our FREE daily email newsletter.