Daryl Schaller Sells 35,000 Shares of MGP Ingredients Inc. (MGPI) Stock
MGP Ingredients Inc. (NASDAQ:MGPI) Director Daryl Schaller sold 35,000 shares of the business's stock in a transaction that occurred on Wednesday, November 16th. The shares were sold at an average price of $44.03, for a total transaction of $1,541,050.00. The transaction was disclosed in a document filed with the SEC, which is accessible through this link.
MGP Ingredients Inc. (NASDAQ:MGPI) opened at 48.39 on Tuesday. The firm has a 50-day moving average of $40.85 and a 200 day moving average of $37.44. The firm has a market cap of $806.08 million, a price-to-earnings ratio of 28.28 and a beta of 1.33. MGP Ingredients Inc. has a 1-year low of $18.42 and a 1-year high of $48.75.
MGP Ingredients (NASDAQ:MGPI) last issued its quarterly earnings data on Wednesday, November 2nd. The company reported $0.55 EPS for the quarter, topping analysts' consensus estimates of $0.31 by $0.24. MGP Ingredients had a net margin of 9.02% and a return on equity of 22.96%. The firm had revenue of $79.90 million for the quarter, compared to analyst estimates of $84.48 million. The business's quarterly revenue was down .2% on a year-over-year basis. Analysts expect that MGP Ingredients Inc. will post $1.64 earnings per share for the current fiscal year.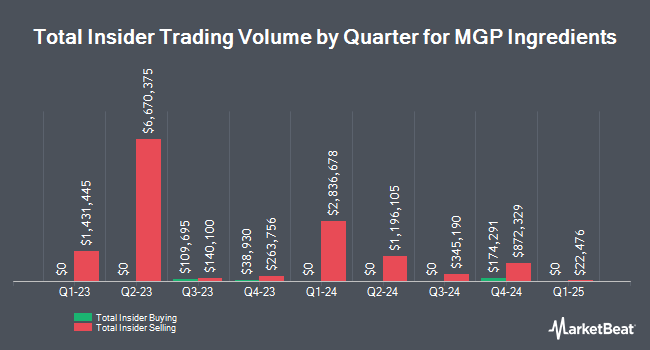 The business also recently disclosed a quarterly dividend, which will be paid on Thursday, December 8th. Shareholders of record on Monday, November 14th will be issued a dividend of $0.02 per share. This represents a $0.08 dividend on an annualized basis and a yield of 0.17%. The ex-dividend date of this dividend is Wednesday, November 9th. MGP Ingredients's dividend payout ratio is currently 4.68%.
Separately, Zacks Investment Research lowered shares of MGP Ingredients from a "hold" rating to a "strong sell" rating in a report on Tuesday, August 23rd.
MGP Ingredients Company Profile
MGP Ingredients, Inc is a holding company. The Company's principal operating subsidiaries are MGPI Processing, Inc and MGPI of Indiana, LLC (MGPI-I). The Company produces and supplies distilled spirits, and wheat proteins and starches. The Company's distilled spirits include bourbon and rye whiskeys, and grain neutral spirits, including vodka and gin.
Receive News & Stock Ratings for MGP Ingredients Inc. Daily - Enter your email address below to receive a concise daily summary of the latest news and analysts' ratings for MGP Ingredients Inc. and related stocks with our FREE daily email newsletter.