Essentra PLC (ESNT) Price Target Lowered to GBX 425 at Deutsche Bank AG
Essentra PLC (LON:ESNT) had its price objective cut by equities researchers at Deutsche Bank AG from GBX 545 ($6.81) to GBX 425 ($5.31) in a report released on Tuesday. The brokerage currently has a " hold" rating on the stock. Deutsche Bank AG's target price indicates a potential upside of 8.06% from the stock's previous close.
A number of other analysts also recently weighed in on ESNT. Citigroup Inc. decreased their price target on Essentra PLC from GBX 730 ($9.12) to GBX 700 ($8.75) and set a "buy" rating on the stock in a research note on Monday, August 1st. Numis Securities Ltd downgraded Essentra PLC to an "add" rating and set a GBX 470 ($5.87) price target on the stock. in a research note on Tuesday. Jefferies Group restated a "buy" rating and issued a GBX 615 ($7.68) price target on shares of Essentra PLC in a research note on Friday, August 26th. Finally, JPMorgan Chase & Co. downgraded Essentra PLC to an "underweight" rating and decreased their price target for the company from GBX 700 ($8.75) to GBX 426 ($5.32) in a research note on Tuesday, August 2nd. One investment analyst has rated the stock with a sell rating, one has assigned a hold rating and three have given a buy rating to the stock. The company has an average rating of "Hold" and a consensus price target of GBX 593.67 ($7.42).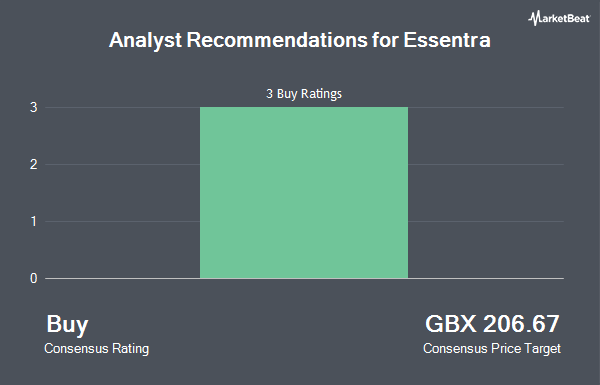 Shares of Essentra PLC (LON:ESNT) traded down 2.64% during mid-day trading on Tuesday, reaching GBX 382.90. The company's stock had a trading volume of 2,402,334 shares. Essentra PLC has a 1-year low of GBX 366.70 and a 1-year high of GBX 899.50. The firm's market capitalization is GBX 998.98 million. The company's 50-day moving average is GBX 495.48 and its 200 day moving average is GBX 572.67.
Essentra PLC Company Profile
Essentra plc is a United Kingdom-based manufacturer and distributor of plastic injection molded, vinyl dip molded and metal items. The Company's segments include Component Solutions, Health & Personal Care Packaging and Filtration Products. The Component Solutions segment includes the components, pipe protection technologies (PPT), extrusion and security businesses each of which serves customers in light and heavy industry.
Receive News & Stock Ratings for Essentra PLC Daily - Enter your email address below to receive a concise daily summary of the latest news and analysts' ratings for Essentra PLC and related stocks with our FREE daily email newsletter.