Hochschild Mining Plc (HOC) Rating Reiterated by Numis Securities Ltd
Hochschild Mining Plc (LON:HOC)'s stock had its "add" rating reissued by investment analysts at Numis Securities Ltd in a research note issued to investors on Friday.
A number of other equities analysts have also commented on the stock. Barclays PLC lowered shares of Hochschild Mining Plc to an "equal weight" rating in a report on Wednesday, September 21st. Royal Bank Of Canada reissued an "outperform" rating on shares of Hochschild Mining Plc in a research note on Tuesday, October 4th. Finally, JPMorgan Chase & Co. lifted their target price on shares of Hochschild Mining Plc from GBX 145 ($1.81) to GBX 190 ($2.37) and gave the stock a "neutral" rating in a research note on Thursday, September 15th. Four investment analysts have rated the stock with a hold rating and four have given a buy rating to the stock. The company presently has an average rating of "Buy" and an average price target of GBX 133 ($1.66).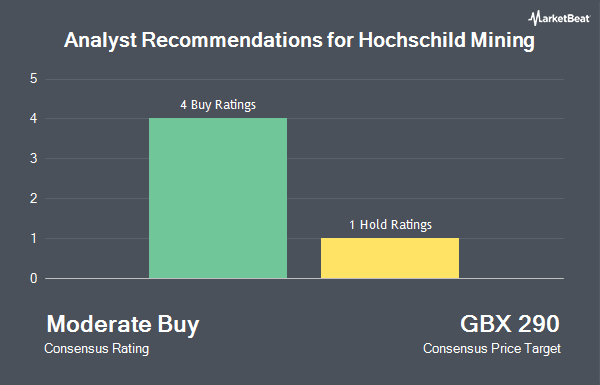 Hochschild Mining Plc (LON:HOC) opened at 230.10 on Friday. The firm's market capitalization is GBX 1.07 billion. Hochschild Mining Plc has a 52 week low of GBX 38.75 and a 52 week high of GBX 327.60. The company has a 50-day moving average of GBX 259.92 and a 200-day moving average of GBX 230.18.
Hochschild Mining Plc Company Profile
Hochschild Mining plc is engaged in mining, processing and sale of silver and gold. It has approximately three operating mines (Arcata, Pallancata and Inmaculada) located in southern Peru and approximately one operating mine (San Jose) located in Argentina. Its segments include Arcata, Pallancata, San Jose, Inmaculada, Exploration and Other.
Receive News & Stock Ratings for Hochschild Mining Plc Daily - Enter your email address below to receive a concise daily summary of the latest news and analysts' ratings for Hochschild Mining Plc and related stocks with our FREE daily email newsletter.