John C. Fowler Sells 71,834 Shares of Quad/Graphics Inc. (QUAD) Stock
Quad/Graphics Inc. (NYSE:QUAD) Vice Chairman John C. Fowler sold 71,834 shares of the firm's stock in a transaction dated Wednesday, November 23rd. The shares were sold at an average price of $26.99, for a total value of $1,938,799.66. Following the sale, the insider now owns 207,233 shares in the company, valued at $5,593,218.67. The transaction was disclosed in a document filed with the SEC, which can be accessed through the SEC website.
Quad/Graphics Inc. (NYSE:QUAD) traded up 0.30% during midday trading on Wednesday, hitting $27.16. The stock had a trading volume of 163,489 shares. The stock's market cap is $1.39 billion. Quad/Graphics Inc. has a 12 month low of $7.32 and a 12 month high of $29.50. The stock has a 50 day moving average of $25.44 and a 200 day moving average of $24.39.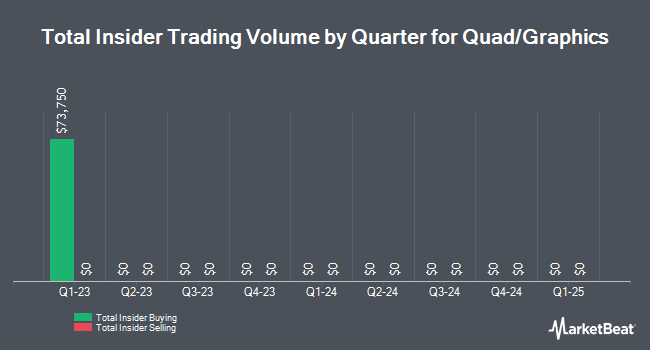 The business also recently disclosed a quarterly dividend, which will be paid on Friday, December 9th. Shareholders of record on Monday, November 28th will be paid a $0.30 dividend. The ex-dividend date is Wednesday, November 23rd. This represents a $1.20 annualized dividend and a yield of 4.42%. Quad/Graphics's dividend payout ratio is presently -1,999.67%.
QUAD has been the topic of a number of analyst reports. Sidoti upgraded Quad/Graphics from a "neutral" rating to a "buy" rating in a research report on Tuesday, August 2nd. TheStreet upgraded Quad/Graphics from a "sell" rating to a "hold" rating in a research report on Wednesday, November 2nd.
COPYRIGHT VIOLATION WARNING: This news story was reported by The Cerbat Gem and is the sole property of of The Cerbat Gem. If you are reading this news story on another publication, it was copied illegally and republished in violation of international trademark and copyright laws. The legal version of this news story can be read at https://www.thecerbatgem.com/2016/11/23/john-c-fowler-sells-71834-shares-of-quadgraphics-inc-quad-stock.html.
About Quad/Graphics
Quad/Graphics, Inc is a print and marketing services provider. The Company's operating segments are the United States Print and Related Services, and International. The Company operates primarily in the commercial print portion of the printing industry as a printer of retail inserts, publications, catalogs, journals, direct mail, books, directories, in-store marketing and promotion, packaging, newspapers, custom print products, other commercial and specialty printed products and global paper procurement.
Receive News & Stock Ratings for Quad/Graphics Inc. Daily - Enter your email address below to receive a concise daily summary of the latest news and analysts' ratings for Quad/Graphics Inc. and related stocks with our FREE daily email newsletter.