Neil Lerner Sells 3,000 Shares of Psychemedics Corp. (PMD) Stock
Psychemedics Corp. (NASDAQ:PMD) VP Neil Lerner sold 3,000 shares of the company's stock in a transaction that occurred on Friday, November 18th. The shares were sold at an average price of $24.75, for a total value of $74,250.00. Following the completion of the transaction, the vice president now directly owns 25,722 shares in the company, valued at approximately $636,619.50. The transaction was disclosed in a filing with the Securities & Exchange Commission, which is available at this hyperlink.
Shares of Psychemedics Corp. (NASDAQ:PMD) opened at 24.06 on Wednesday. The company has a market capitalization of $131.37 million, a PE ratio of 29.31 and a beta of 0.85. The company has a 50 day moving average price of $21.64 and a 200 day moving average price of $18.03. Psychemedics Corp. has a 52 week low of $7.76 and a 52 week high of $26.00.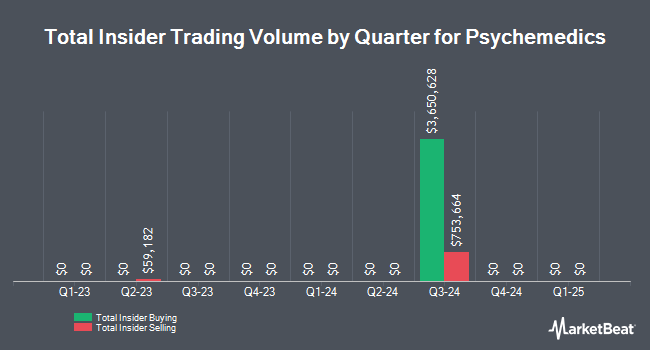 The company also recently announced a quarterly dividend, which was paid on Thursday, November 17th. Shareholders of record on Monday, November 7th were given a dividend of $0.15 per share. The ex-dividend date of this dividend was Thursday, November 3rd. This represents a $0.60 annualized dividend and a dividend yield of 2.49%. Psychemedics Corp.'s dividend payout ratio is currently 73.17%.
COPYRIGHT VIOLATION WARNING: This article was first reported by The Cerbat Gem and is the propert of of The Cerbat Gem. If you are viewing this article on another website, it was illegally copied and reposted in violation of US and international trademark & copyright law. The original version of this article can be accessed at https://www.thecerbatgem.com/2016/11/23/neil-lerner-sells-3000-shares-of-psychemedics-corp-pmd-stock.html.
Psychemedics Corp. Company Profile
Psychemedics Corporation (Psychemedics) provides hair testing for drugs of abuse, utilizing a hair analysis method involving digestion of hair, enzyme immunoassay (EIA) technology and confirmation by mass spectrometry to analyze human hair to detect abused substances. The Company operates in drug testing services segment.
Receive News & Stock Ratings for Psychemedics Corp. Daily - Enter your email address below to receive a concise daily summary of the latest news and analysts' ratings for Psychemedics Corp. and related stocks with our FREE daily email newsletter.