Leju Holdings Ltd. (LEJU) Scheduled to Post Earnings on Monday
Leju Holdings Ltd. (NYSE:LEJU) will release its earnings data on Monday, November 28th. Persons that wish to listen to the company's earnings conference call can do so using this link.
Leju Holdings (NYSE:LEJU) last released its quarterly earnings results on Thursday, August 25th. The company reported $0.11 earnings per share for the quarter, beating the consensus estimate of $0.09 by $0.02. The business had revenue of $158.30 million for the quarter, compared to analysts' expectations of $172.75 million. Leju Holdings had a net margin of 4.59% and a return on equity of 8.76%. The firm's revenue for the quarter was up .3% compared to the same quarter last year. During the same quarter in the previous year, the business posted $0.12 earnings per share. On average, analysts expect Leju Holdings to post $0.37 EPS for the current fiscal year and $0.45 EPS for the next fiscal year.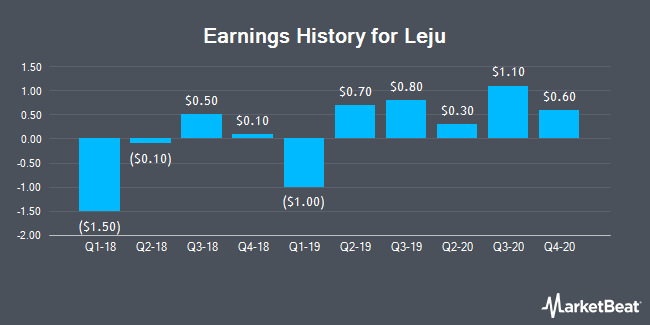 Shares of Leju Holdings Ltd. (NYSE:LEJU) opened at 4.38 on Thursday. The company has a 50-day moving average of $4.31 and a 200 day moving average of $4.55. Leju Holdings Ltd. has a 12-month low of $3.28 and a 12-month high of $6.13. The company has a market cap of $814.68 million, a PE ratio of 21.79 and a beta of 3.26.
LEJU has been the topic of a number of research analyst reports. Zacks Investment Research raised Leju Holdings from a "strong sell" rating to a "hold" rating in a report on Wednesday, October 26th. JPMorgan Chase & Co. assumed coverage on Leju Holdings in a report on Wednesday, August 31st. They set a "neutral" rating and a $4.60 price objective on the stock. Finally, cut Leju Holdings from an "underperform" rating to a "sell" rating and decreased their price objective for the stock from $5.50 to $4.60 in a report on Friday, August 26th.
ILLEGAL ACTIVITY NOTICE: This report was first posted by The Cerbat Gem and is the propert of of The Cerbat Gem. If you are accessing this report on another domain, it was copied illegally and reposted in violation of US and international trademark and copyright legislation. The legal version of this report can be read at https://www.thecerbatgem.com/2016/11/24/leju-holdings-ltd-leju-scheduled-to-post-earnings-on-monday.html.
Leju Holdings Company Profile
Leju Holdings Limited is an online to offline (O2O), real estate services provider in China. The Company offers real estate e-commerce, online advertising and online listing services through its online platform, which consists of local Websites covering over 260 cities and various mobile applications.
Receive News & Stock Ratings for Leju Holdings Ltd. Daily - Enter your email address below to receive a concise daily summary of the latest news and analysts' ratings for Leju Holdings Ltd. and related stocks with our FREE daily email newsletter.