Patrick L. Alexander Sells 2,600 Shares of Landmark Bancorp Inc. (LARK) Stock
Landmark Bancorp Inc. (NASDAQ:LARK) insider Patrick L. Alexander sold 2,600 shares of the firm's stock in a transaction on Friday, November 18th. The shares were sold at an average price of $27.32, for a total transaction of $71,032.00. Following the completion of the sale, the insider now owns 120,729 shares in the company, valued at $3,298,316.28. The sale was disclosed in a document filed with the SEC, which is available at this link.
Shares of Landmark Bancorp Inc. (NASDAQ:LARK) opened at 27.10 on Thursday. The firm has a market capitalization of $99.57 million, a price-to-earnings ratio of 10.76 and a beta of 0.31. Landmark Bancorp Inc. has a one year low of $23.80 and a one year high of $27.74. The stock has a 50 day moving average of $26.86 and a 200-day moving average of $26.03.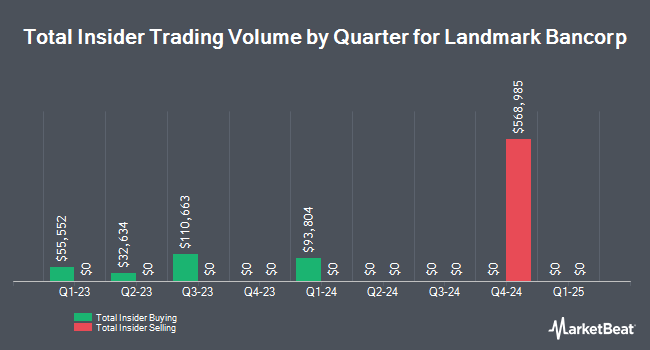 The business also recently announced a quarterly dividend, which was paid on Wednesday, November 23rd. Investors of record on Wednesday, November 9th were issued a $0.20 dividend. The ex-dividend date of this dividend was Monday, November 7th. This represents a $0.80 dividend on an annualized basis and a yield of 2.95%. Landmark Bancorp's payout ratio is 31.56%.
COPYRIGHT VIOLATION NOTICE: This news story was first published by The Cerbat Gem and is the sole property of of The Cerbat Gem. If you are viewing this news story on another site, it was illegally stolen and reposted in violation of United States and international copyright and trademark legislation. The correct version of this news story can be viewed at https://www.thecerbatgem.com/2016/11/24/patrick-l-alexander-sells-2600-shares-of-landmark-bancorp-inc-lark-stock.html.
Landmark Bancorp Company Profile
Landmark Bancorp, Inc is the bank holding company for Landmark National Bank (the Bank). The Bank is principally engaged in the business of attracting deposits from the general public and using such deposits, together with borrowings and other funds, to originate one- to four-family residential real estate, construction and land, commercial real estate, commercial, agriculture, municipal and consumer loans.
Receive News & Stock Ratings for Landmark Bancorp Inc. Daily - Enter your email address below to receive a concise daily summary of the latest news and analysts' ratings for Landmark Bancorp Inc. and related stocks with our FREE daily email newsletter.