West Bancorp Inc. (WTBA) SVP Marie I. Roberts Sells 650 Shares
West Bancorp Inc. (NASDAQ:WTBA) SVP Marie I. Roberts sold 650 shares of the firm's stock in a transaction that occurred on Tuesday, November 22nd. The shares were sold at an average price of $23.45, for a total transaction of $15,242.50. Following the completion of the sale, the senior vice president now owns 13,850 shares of the company's stock, valued at $324,782.50. The sale was disclosed in a document filed with the Securities & Exchange Commission, which can be accessed through this link.
Shares of West Bancorp Inc. (NASDAQ:WTBA) remained flat at $23.35 during midday trading on Thursday. 26,607 shares of the company were exchanged. The firm has a market capitalization of $376.80 million, a PE ratio of 16.44 and a beta of 0.97. West Bancorp Inc. has a 12 month low of $16.04 and a 12 month high of $23.95. The company has a 50-day moving average price of $20.39 and a 200-day moving average price of $19.30.
West Bancorp (NASDAQ:WTBA) last posted its earnings results on Thursday, October 27th. The financial services provider reported $0.36 earnings per share for the quarter, beating the consensus estimate of $0.35 by $0.01. West Bancorp had a net margin of 31.57% and a return on equity of 14.44%. Equities analysts expect that West Bancorp Inc. will post $1.40 EPS for the current year.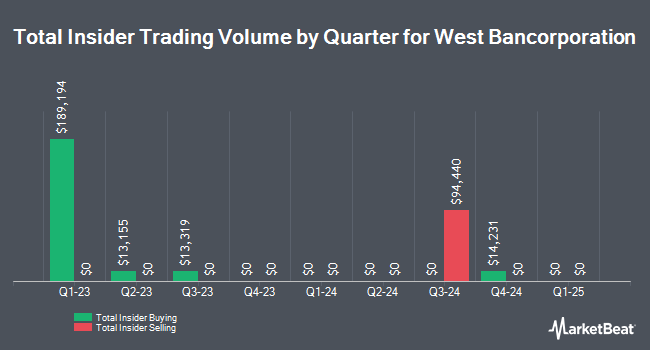 The business also recently disclosed a quarterly dividend, which was paid on Wednesday, November 23rd. Stockholders of record on Wednesday, November 9th were issued a $0.17 dividend. The ex-dividend date of this dividend was Monday, November 7th. This represents a $0.68 annualized dividend and a dividend yield of 2.91%. West Bancorp's dividend payout ratio is currently 47.89%.
WARNING: "West Bancorp Inc. (WTBA) SVP Marie I. Roberts Sells 650 Shares" was first posted by The Cerbat Gem and is the sole property of of The Cerbat Gem. If you are viewing this article on another website, it was illegally stolen and republished in violation of U.S. and international copyright & trademark law. The legal version of this article can be read at https://www.thecerbatgem.com/2016/11/24/west-bancorp-inc-wtba-svp-marie-i-roberts-sells-650-shares.html.
West Bancorp Company Profile
West Bancorporation, Inc is a bank holding company of West Bank, which is a business-focused community bank. It operates through banking segment. The Company operates in approximately three markets, which include central Iowa; eastern Iowa, which is the area including and surrounding Iowa City and Coralville, Iowa, and the Rochester, Minnesota, area.
Receive News & Stock Ratings for West Bancorp Inc. Daily - Enter your email address below to receive a concise daily summary of the latest news and analysts' ratings for West Bancorp Inc. and related stocks with our FREE daily email newsletter.