Insider Selling: Patrick Industries Inc. (PATK) Director Sells 28,247 Shares of Stock
Patrick Industries Inc. (NASDAQ:PATK) Director Jeffrey L. Et Al Gendell sold 28,247 shares of Patrick Industries stock in a transaction dated Wednesday, November 23rd. The stock was sold at an average price of $69.20, for a total value of $1,954,692.40. The sale was disclosed in a legal filing with the Securities & Exchange Commission, which is available through this link.
Shares of Patrick Industries Inc. (NASDAQ:PATK) opened at 69.90 on Friday. The firm has a market capitalization of $1.07 billion, a price-to-earnings ratio of 20.27 and a beta of 1.22. The firm's 50-day moving average price is $61.55 and its 200-day moving average price is $60.16. Patrick Industries Inc. has a 12 month low of $29.28 and a 12 month high of $70.00.
Patrick Industries (NASDAQ:PATK) last posted its quarterly earnings data on Thursday, October 27th. The company reported $0.79 EPS for the quarter, topping analysts' consensus estimates of $0.76 by $0.03. The company had revenue of $304.20 million for the quarter, compared to analyst estimates of $280.60 million. Patrick Industries had a return on equity of 35.44% and a net margin of 4.60%. The company's quarterly revenue was up 41.6% on a year-over-year basis. On average, equities analysts anticipate that Patrick Industries Inc. will post $3.59 earnings per share for the current year.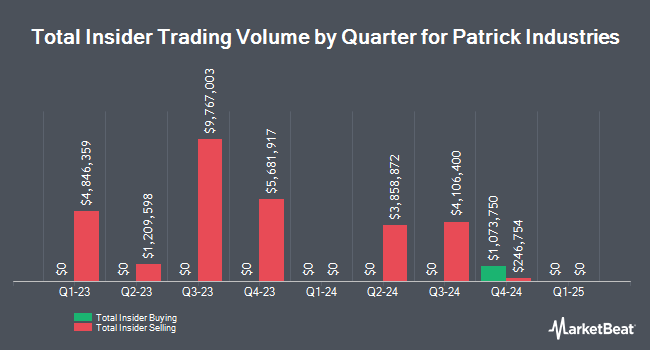 ILLEGAL ACTIVITY NOTICE: This piece of content was reported by The Cerbat Gem and is owned by of The Cerbat Gem. If you are reading this piece of content on another website, it was illegally stolen and reposted in violation of U.S. & international trademark & copyright law. The correct version of this piece of content can be viewed at https://www.thecerbatgem.com/2016/11/26/insider-selling-patrick-industries-inc-patk-director-sells-28247-shares-of-stock.html.
Separately, CL King raised Patrick Industries from a "neutral" rating to a "buy" rating in a research note on Wednesday, August 17th.
Patrick Industries Company Profile
Patrick Industries, Inc (Patrick) is a manufacturer of component products and distributor of building products and materials for the recreational vehicle (RV) and manufactured housing (MH) industries. The Company operates in two segments: Manufacturing and Distribution. The Company's manufacturing segment's lamination operations utilizes various materials, such as lauan, medium density fiberboard (MDF), gypsum, and particleboard, which are bonded by adhesives or a heating process to a number of products, including vinyl, paper, foil and high-pressure laminates.
Receive News & Stock Ratings for Patrick Industries Inc. Daily - Enter your email address below to receive a concise daily summary of the latest news and analysts' ratings for Patrick Industries Inc. and related stocks with our FREE daily email newsletter.