Royal Mail PLC (RMG) Given New GBX 450 Price Target at Deutsche Bank AG
Royal Mail PLC (LON:RMG) had its price target increased by equities researchers at Deutsche Bank AG from GBX 435 ($5.43) to GBX 450 ($5.62) in a research note issued on Monday. The brokerage currently has a "hold" rating on the stock. Deutsche Bank AG's price target would suggest a potential downside of 1.77% from the stock's current price.
A number of other analysts have also recently weighed in on RMG. Jefferies Group restated an "underperform" rating and set a GBX 360 ($4.50) target price on shares of Royal Mail PLC in a report on Thursday, August 25th. Goldman Sachs Group Inc. restated a "neutral" rating and set a GBX 600 ($7.50) target price on shares of Royal Mail PLC in a report on Thursday, September 8th. JPMorgan Chase & Co. reduced their target price on shares of Royal Mail PLC from GBX 605 ($7.56) to GBX 580 ($7.25) and set an "overweight" rating for the company in a report on Tuesday, September 20th. Liberum Capital reaffirmed a "sell" rating and issued a GBX 320 ($4.00) price objective on shares of Royal Mail PLC in a research note on Wednesday, September 28th. Finally, Davy Research reaffirmed a "neutral" rating on shares of Royal Mail PLC in a research note on Thursday, November 17th. Two analysts have rated the stock with a sell rating, eight have assigned a hold rating and four have assigned a buy rating to the company's stock. The stock presently has a consensus rating of "Hold" and a consensus price target of GBX 473.50 ($5.92).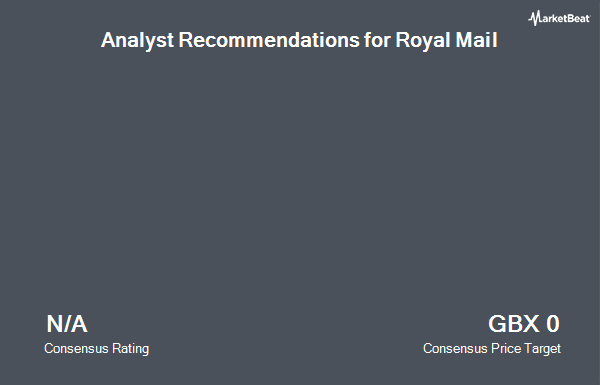 Shares of Royal Mail PLC (LON:RMG) opened at 454.50 on Monday. The firm's market capitalization is GBX 4.55 billion. Royal Mail PLC has a 12-month low of GBX 412.80 and a 12-month high of GBX 549.00. The stock's 50 day moving average price is GBX 484.77 and its 200-day moving average price is GBX 504.21.
The firm also recently declared a dividend, which will be paid on Wednesday, January 11th. Stockholders of record on Thursday, December 8th will be issued a dividend of GBX 7.40 ($0.09) per share. The ex-dividend date of this dividend is Thursday, December 8th. This represents a dividend yield of 1.59%.
WARNING: This story was posted by The Cerbat Gem and is owned by of The Cerbat Gem. If you are accessing this story on another website, it was stolen and reposted in violation of United States & international trademark & copyright law. The correct version of this story can be accessed at https://www.thecerbatgem.com/2016/11/28/royal-mail-plc-rmg-given-new-gbx-450-price-target-at-deutsche-bank-ag.html.
Royal Mail PLC Company Profile
Royal Mail plc provides postal services. The Company's segments include UK Parcels, International & Letters (UKPIL), General Logistics Systems (GLS) and Other. UKPIL operates in the United Kingdom collecting and delivering parcels and letters through approximately two main networks, the Royal Mail Core Network and Parcelforce Worldwide.
Receive News & Stock Ratings for Royal Mail PLC Daily - Enter your email address below to receive a concise daily summary of the latest news and analysts' ratings for Royal Mail PLC and related stocks with our FREE daily email newsletter.