Debenhams Plc (DEB) Given New GBX 51 Price Target at Goldman Sachs Group Inc.
Debenhams Plc (LON:DEB) had its price objective boosted by Goldman Sachs Group Inc. from GBX 50 ($0.62) to GBX 51 ($0.63) in a research report sent to investors on Monday. They currently have a sell rating on the stock.
DEB has been the topic of a number of other reports. Deutsche Bank AG restated a hold rating on shares of Debenhams Plc in a research note on Wednesday, August 3rd. Peel Hunt dropped their price target on Debenhams Plc from GBX 100 ($1.24) to GBX 70 ($0.87) and set a hold rating on the stock in a research note on Thursday, October 27th. Royal Bank Of Canada restated a sector performer rating and issued a GBX 62 ($0.77) price target on shares of Debenhams Plc in a research note on Monday, November 7th. HSBC downgraded Debenhams Plc from a hold rating to a reduce rating and raised their price target for the stock from GBX 53 ($0.66) to GBX 55 ($0.68) in a research note on Friday, September 9th. Finally, JPMorgan Chase & Co. restated an underweight rating and issued a GBX 54 ($0.67) price target on shares of Debenhams Plc in a research note on Thursday, October 27th. Five investment analysts have rated the stock with a sell rating, nine have given a hold rating and three have issued a buy rating to the stock. The company presently has a consensus rating of Hold and an average price target of GBX 65.53 ($0.81).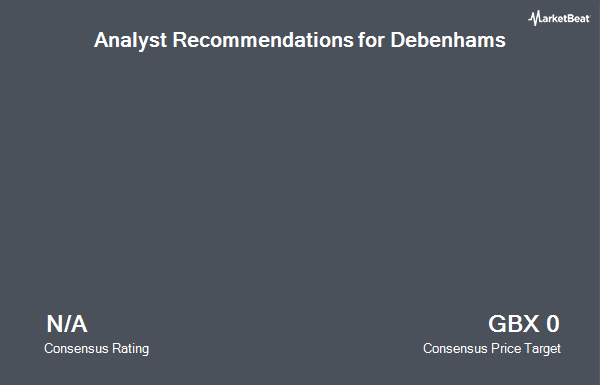 Debenhams Plc (LON:DEB) opened at 55.70 on Monday. The company's 50-day moving average price is GBX 55.77 and its 200 day moving average price is GBX 60.43. Debenhams Plc has a 52-week low of GBX 51.25 and a 52-week high of GBX 85.90. The stock's market capitalization is GBX 683.77 million.
TRADEMARK VIOLATION WARNING: This report was posted by The Cerbat Gem and is owned by of The Cerbat Gem. If you are accessing this report on another domain, it was stolen and republished in violation of international trademark and copyright laws. The correct version of this report can be read at https://www.thecerbatgem.com/2016/11/29/debenhams-plc-deb-given-new-gbx-51-price-target-at-goldman-sachs-group-inc.html.
The firm also recently declared a dividend, which will be paid on Tuesday, January 24th. Stockholders of record on Thursday, December 8th will be given a dividend of GBX 2.40 ($0.03) per share. The ex-dividend date of this dividend is Thursday, December 8th. This is an increase from Debenhams Plc's previous dividend of $1.03. This represents a dividend yield of 4.34%.
In other Debenhams Plc news, insider Matt Smith purchased 44,465 shares of Debenhams Plc stock in a transaction dated Wednesday, November 9th. The shares were acquired at an average cost of GBX 56 ($0.69) per share, with a total value of £24,900.40 ($30,889.96).
Debenhams Plc Company Profile
Debenhams plc is a United Kingdom-based company, which is engaged in multi-channel business. The Company's brand trades through approximately 240 stores in 27 countries. The Company's segments are UK and International. The UK segment consists of stores in the United Kingdom and online sales to the United Kingdom addresses.
Receive News & Stock Ratings for Debenhams Plc Daily - Enter your email address below to receive a concise daily summary of the latest news and analysts' ratings for Debenhams Plc and related stocks with our FREE daily email newsletter.