Independence Holding Co. (IHC) to Issue Semiannual Dividend of $0.06
Independence Holding Co. (NYSE:IHC) declared a semiannual dividend on Wednesday, November 30th. Shareholders of record on Monday, January 2nd will be paid a dividend of 0.06 per share on Tuesday, January 17th. This represents a yield of 0.6%. The ex-dividend date of this dividend is Wednesday, December 28th. This is a positive change from Independence Holding's previous semiannual dividend of $0.05.
Shares of Independence Holding (NYSE:IHC) traded up 0.25% on Wednesday, reaching $19.85. 10,191 shares of the company's stock traded hands. The firm has a market capitalization of $338.78 million, a P/E ratio of 2.89 and a beta of 0.71. The company's 50-day moving average is $18.13 and its 200-day moving average is $17.41. Independence Holding has a 52 week low of $13.16 and a 52 week high of $20.10.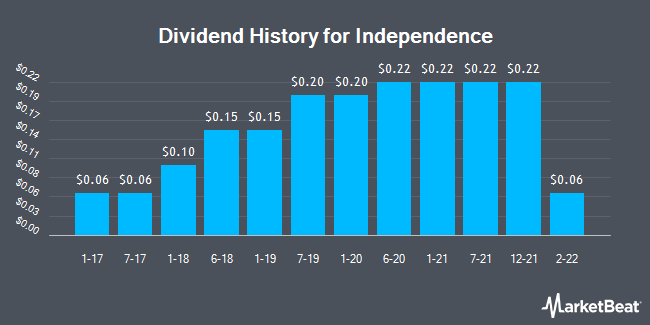 ILLEGAL ACTIVITY WARNING: "Independence Holding Co. (IHC) to Issue Semiannual Dividend of $0.06" was first published by The Cerbat Gem and is the sole property of of The Cerbat Gem. If you are viewing this piece of content on another website, it was illegally stolen and republished in violation of U.S. and international copyright and trademark laws. The correct version of this piece of content can be viewed at https://www.thecerbatgem.com/2016/11/30/independence-holding-co-ihc-to-issue-semiannual-dividend-of-0-06.html.
Independence Holding Company Profile
Independence Holding Company (IHC) is a holding company principally engaged in the life and health insurance business. The Company's segments include Medical Stop-Loss; Fully Insured Health; Group disability, life and DBL; Individual life, annuities and other, and Corporate. The Company is a writer across the nation of excess or stop-loss insurance for self-insured employer groups that desire to manage the risk of large medical claims (Medical Stop-Loss).
Receive News & Stock Ratings for Independence Holding Co. Daily - Enter your email address below to receive a concise daily summary of the latest news and analysts' ratings for Independence Holding Co. and related stocks with our FREE daily email newsletter.