Morningstar Inc. (MORN) Director Steven N. Kaplan Sells 2,000 Shares of Stock
Morningstar Inc. (NASDAQ:MORN) Director Steven N. Kaplan sold 2,000 shares of the company's stock in a transaction dated Monday, November 28th. The stock was sold at an average price of $73.34, for a total value of $146,680.00. Following the completion of the transaction, the director now directly owns 49,793 shares of the company's stock, valued at approximately $3,651,818.62. The transaction was disclosed in a filing with the SEC, which is available at the SEC website.
Morningstar Inc. (NASDAQ:MORN) opened at 73.26 on Wednesday. The company has a 50-day moving average price of $72.44 and a 200-day moving average price of $79.53. Morningstar Inc. has a 12-month low of $67.74 and a 12-month high of $89.44. The firm has a market cap of $3.15 billion, a PE ratio of 24.89 and a beta of 0.70.
Morningstar (NASDAQ:MORN) last issued its quarterly earnings data on Thursday, October 20th. The company reported $0.70 earnings per share (EPS) for the quarter, missing the consensus estimate of $0.77 by $0.07. The firm had revenue of $196.10 million for the quarter, compared to analysts' expectations of $199.20 million. Morningstar had a return on equity of 19.90% and a net margin of 16.24%. On average, equities analysts predict that Morningstar Inc. will post $2.87 earnings per share for the current year.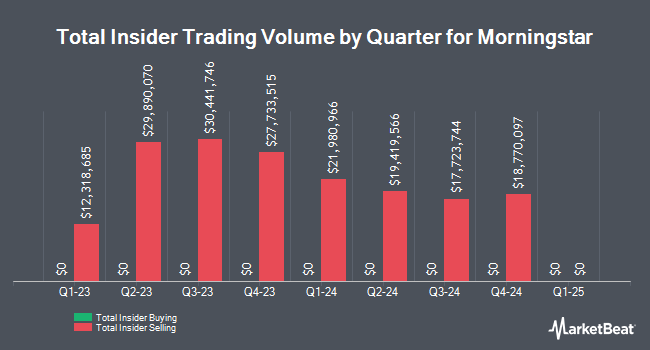 COPYRIGHT VIOLATION NOTICE: This report was originally reported by The Cerbat Gem and is the propert of of The Cerbat Gem. If you are reading this report on another domain, it was illegally stolen and republished in violation of international trademark & copyright legislation. The correct version of this report can be accessed at https://www.thecerbatgem.com/2016/11/30/morningstar-inc-morn-director-steven-n-kaplan-sells-2000-shares-of-stock.html.
About Morningstar
Morningstar, Inc is a provider of independent investment research in North America, Europe, Australia and Asia. The Company offers a line of data, software, research and investment management offerings for financial advisors, asset managers, retirement plan providers and sponsors, and individual investors.
Receive News & Stock Ratings for Morningstar Inc. Daily - Enter your email address below to receive a concise daily summary of the latest news and analysts' ratings for Morningstar Inc. and related stocks with our FREE daily email newsletter.