ReneSola Ltd. (SOL) Announces Earnings Results
ReneSola Ltd. (NYSE:SOL) issued its quarterly earnings results on Tuesday. The company reported ($0.20) earnings per share for the quarter, missing the Zacks' consensus estimate of ($0.17) by $0.03. ReneSola had a return on equity of 23.61% and a net margin of 2.26%. The business had revenue of $1.87 billion for the quarter, compared to analyst estimates of $200.90 million. During the same quarter in the previous year, the business posted $0.06 earnings per share. The business's revenue was down 49.2% on a year-over-year basis.
ReneSola (NYSE:SOL) opened at 0.739 on Wednesday. ReneSola has a 52-week low of $0.65 and a 52-week high of $1.95. The company has a market cap of $74.64 million, a PE ratio of 2.831 and a beta of 2.88. The stock's 50 day moving average is $0.90 and its 200-day moving average is $1.12.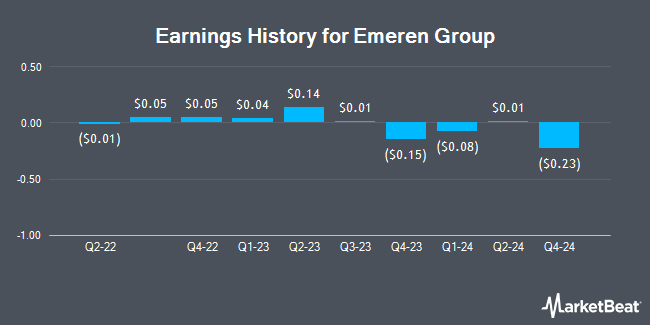 A number of brokerages have weighed in on SOL. TheStreet downgraded ReneSola from a "hold" rating to a "sell" rating in a report on Wednesday, August 24th. Zacks Investment Research upgraded ReneSola from a "sell" rating to a "hold" rating in a report on Tuesday, October 25th. Credit Suisse Group AG reiterated an "underperform" rating and set a $1.00 price target on shares of ReneSola in a report on Monday, November 14th. Finally, Roth Capital downgraded ReneSola from a "hold" rating to a "sell" rating in a report on Friday, August 5th.
An institutional investor recently raised its position in ReneSola stock. KCG Holdings Inc. increased its position in ReneSola Ltd. (NYSE:SOL) by 164.5% during the second quarter, according to its most recent disclosure with the Securities and Exchange Commission. The institutional investor owned 89,877 shares of the company's stock after buying an additional 55,897 shares during the period. KCG Holdings Inc. owned about 0.09% of ReneSola worth $111,000 at the end of the most recent quarter. Institutional investors and hedge funds own 11.71% of the company's stock.
TRADEMARK VIOLATION NOTICE: "ReneSola Ltd. (SOL) Announces Earnings Results" was posted by The Cerbat Gem and is the sole property of of The Cerbat Gem. If you are reading this report on another site, it was illegally stolen and republished in violation of U.S. & international copyright & trademark law. The legal version of this report can be viewed at https://www.thecerbatgem.com/2016/11/30/renesola-ltd-sol-announces-earnings-results.html.
ReneSola Company Profile
ReneSola Ltd is a holding company. The Company is a brand and technology provider of energy-efficient products based in China. The Company's segments include wafer sales, cell and module sales, and solar power projects. The wafer sales segment involves the manufacture and sales of monocrystalline and multicrystalline solar wafers and processing services.
Receive News & Stock Ratings for ReneSola Ltd. Daily - Enter your email address below to receive a concise daily summary of the latest news and analysts' ratings for ReneSola Ltd. and related stocks with our FREE daily email newsletter.