Cancer Genetics Inc (CGIX) Set to Announce Quarterly Earnings on Thursday
Cancer Genetics Inc (NASDAQ:CGIX) will issue its quarterly earnings data after the market closes on Thursday, March 23rd. Analysts expect the company to announce earnings of ($0.22) per share for the quarter.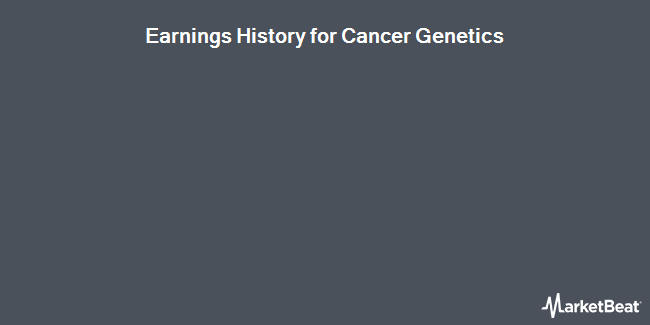 Cancer Genetics Inc (NASDAQ:CGIX) opened at 2.90 on Tuesday. Cancer Genetics Inc has a 1-year low of $1.10 and a 1-year high of $3.40. The stock's 50 day moving average is $2.29 and its 200-day moving average is $1.81. The firm's market capitalization is $54.77 million.
Separately, Zacks Investment Research cut Cancer Genetics from a "buy" rating to a "hold" rating in a research report on Wednesday, February 8th.
Your IP Address:
About Cancer Genetics
Cancer Genetics, Inc is engaged in the field of personalized medicine, enabling precision medicine in the field of oncology through its diagnostic products and services, and molecular markers. The Company develops, commercializes and provides molecular- and biomarker-based tests and services that enable physicians to personalize the clinical management of each individual patient by providing genomic information to diagnose, monitor and inform cancer treatment, and enable biopharmaceutical companies engaged in oncology trials to select candidate populations and manage adverse drug reactions by providing information regarding genomic factors influencing subject responses to therapeutics.
Receive News & Stock Ratings for Cancer Genetics Inc Daily - Enter your email address below to receive a concise daily summary of the latest news and analysts' ratings for Cancer Genetics Inc and related stocks with our FREE daily email newsletter.