Centrica PLC (CPYYY) Stock Rating Lowered by HSBC Holdings plc
Centrica PLC (OTCMKTS:CPYYY) was downgraded by stock analysts at HSBC Holdings plc from a "hold" rating to a "reduce" rating in a research note issued to investors on Friday.
Separately, Zacks Investment Research upgraded shares of Centrica PLC from a "sell" rating to a "hold" rating in a research report on Friday, November 18th. Four analysts have rated the stock with a sell rating, two have given a hold rating and three have given a buy rating to the company. The company currently has an average rating of "Hold" and an average price target of $13.00.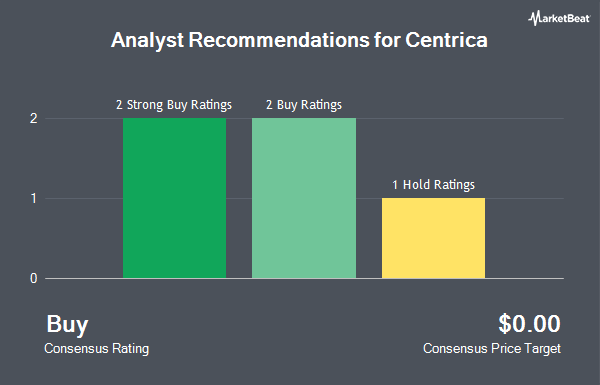 Shares of Centrica PLC (OTCMKTS:CPYYY) opened at 10.595 on Friday. Centrica PLC has a 1-year low of $9.74 and a 1-year high of $14.14. The company has a market capitalization of $14.48 billion, a price-to-earnings ratio of 6.970 and a beta of 0.78. The stock has a 50 day moving average of $11.29 and a 200-day moving average of $11.14.
Your IP Address:
Centrica PLC Company Profile
Centrica plc is an integrated energy company. The Company operates through three segments: International Downstream, International Upstream and Centrica Storage. It offers Hive Active Heating 2, which is an advancement of its smart thermostat. The International Downstream segment includes the operations of British Gas, Direct Energy and Bord Gais Energy.
Receive News & Stock Ratings for Centrica PLC Daily - Enter your email address below to receive a concise daily summary of the latest news and analysts' ratings for Centrica PLC and related stocks with our FREE daily email newsletter.