Raymond James Financial, Inc. Analysts Give Bellatrix Exploration Ltd (BXE) a C$1.50 Price Target
Raymond James Financial, Inc. set a C$1.50 price objective on Bellatrix Exploration Ltd (TSE:BXE) (NYSE:BXE) in a research note published on Thursday morning. The brokerage currently has a market perform rating on the stock.
Several other research analysts have also weighed in on the company. TD Securities cut their target price on Bellatrix Exploration from C$1.50 to C$1.45 and set a hold rating on the stock in a research report on Thursday, March 16th. Scotiabank reaffirmed a sector perform rating and issued a C$1.40 target price on shares of Bellatrix Exploration in a research report on Thursday, March 16th. Finally, Canaccord Genuity raised Bellatrix Exploration from a hold rating to a speculatie buy rating and cut their target price for the stock from C$1.60 to C$1.50 in a research report on Wednesday, March 8th. Four equities research analysts have rated the stock with a hold rating and two have given a buy rating to the stock. Bellatrix Exploration has a consensus rating of Hold and a consensus price target of C$1.64.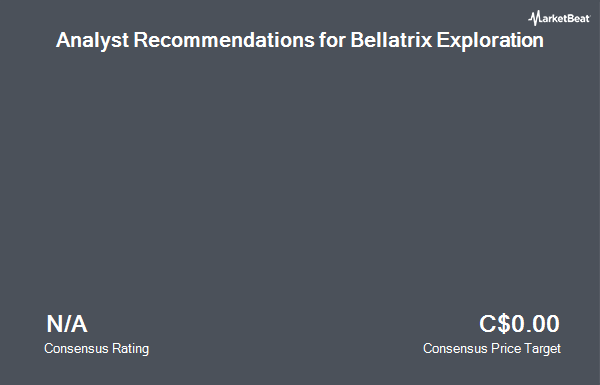 Bellatrix Exploration (TSE:BXE) opened at 1.00 on Thursday. The stock's 50 day moving average price is $1.04 and its 200 day moving average price is $1.14. The firm's market capitalization is $246.27 million. Bellatrix Exploration has a 52-week low of $0.96 and a 52-week high of $1.68.
Your IP Address:
Bellatrix Exploration Company Profile
Bellatrix Exploration Ltd. is an oil and gas exploration company engaged in the exploration for, and the acquisition, development and production of oil and natural gas reserves in the provinces of Alberta, British Columbia and Saskatchewan. The Company's properties include Ferrier, Willesden Green, Greater Pembina, Strachan and Harmattan.
Receive News & Stock Ratings for Bellatrix Exploration Ltd Daily - Enter your email address below to receive a concise daily summary of the latest news and analysts' ratings for Bellatrix Exploration Ltd and related stocks with our FREE daily email newsletter.