UDR, Inc. (UDR) Declares Dividend Increase – $0.31 Per Share
UDR, Inc. (NYSE:UDR) declared a quarterly dividend on Thursday, March 23rd. Shareholders of record on Monday, April 10th will be paid a dividend of 0.31 per share by the real estate investment trust on Monday, May 1st. This represents a $1.24 annualized dividend and a yield of 3.42%. The ex-dividend date is Thursday, April 6th. This is a boost from UDR's previous quarterly dividend of $0.30.
UDR has increased its dividend by an average of 7.9% annually over the last three years and has raised its dividend every year for the last 7 years. UDR has a payout ratio of 67.4% meaning its dividend is sufficiently covered by earnings. Analysts expect UDR to earn $0.30 per share next year, which means the company may not be able to cover its $1.24 annual dividend with an expected future payout ratio of 413.3%.
Shares of UDR (NYSE:UDR) traded down 0.71% on Thursday, reaching $36.26. The company's stock had a trading volume of 1,146,939 shares. The stock has a market capitalization of $9.69 billion, a PE ratio of 33.57 and a beta of 0.34. UDR has a 1-year low of $32.79 and a 1-year high of $37.81. The stock has a 50-day moving average of $36.09 and a 200 day moving average of $35.12.
UDR (NYSE:UDR) last issued its quarterly earnings data on Monday, January 30th. The real estate investment trust reported $0.46 earnings per share for the quarter, beating the Thomson Reuters' consensus estimate of $0.10 by $0.36. The company had revenue of $243.10 million for the quarter, compared to analyst estimates of $242.05 million. UDR had a net margin of 30.52% and a return on equity of 9.96%. The company's revenue was up 2.3% on a year-over-year basis. During the same period in the prior year, the firm earned $0.62 earnings per share. On average, equities analysts forecast that UDR will post $0.31 EPS for the current year.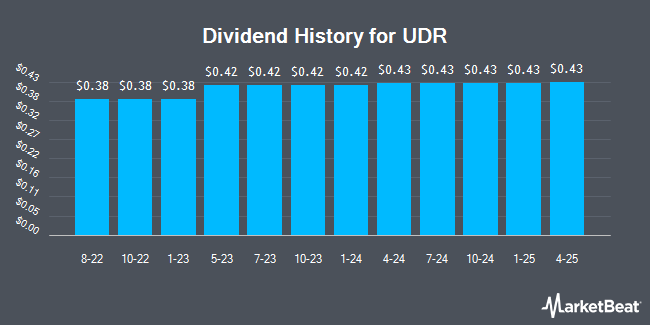 ILLEGAL ACTIVITY WARNING: This news story was posted by The Cerbat Gem and is the property of of The Cerbat Gem. If you are accessing this news story on another website, it was stolen and republished in violation of U.S. & international copyright laws. The correct version of this news story can be read at https://www.thecerbatgem.com/2017/04/20/udr-inc-udr-declares-dividend-increase-0-31-per-share-updated-updated.html.
In other UDR news, VP Warren L. Troupe sold 15,000 shares of the stock in a transaction dated Monday, April 3rd. The shares were sold at an average price of $36.05, for a total transaction of $540,750.00. Following the sale, the vice president now directly owns 531,151 shares in the company, valued at $19,147,993.55. The sale was disclosed in a filing with the Securities & Exchange Commission, which is available at this link. Corporate insiders own 2.79% of the company's stock.
Several equities analysts have recently weighed in on UDR shares. Zacks Investment Research raised shares of UDR from a "sell" rating to a "hold" rating in a research report on Monday, February 13th. Evercore ISI lowered shares of UDR to a "buy" rating in a research report on Friday, March 3rd. Zelman & Associates lowered shares of UDR from a "hold" rating to a "sell" rating in a research report on Monday, February 13th. Mizuho reissued a "buy" rating on shares of UDR in a research report on Friday, December 23rd. Finally, Barclays PLC increased their price objective on shares of UDR from $36.00 to $37.00 and gave the company an "equal weight" rating in a research report on Wednesday. Two investment analysts have rated the stock with a sell rating, six have assigned a hold rating and five have given a buy rating to the company. UDR has a consensus rating of "Hold" and an average price target of $38.40.
UDR Company Profile
UDR, Inc is a self-administered real estate investment trust. The Company owns, operates, acquires, renovates, develops, redevelops, disposes of and manages multifamily apartment communities generally located in various markets across the United States. The Company's segments are Same-Store Communities and Non-Mature Communities/Other.
Receive News & Stock Ratings for UDR Inc. Daily - Enter your email address below to receive a concise daily summary of the latest news and analysts' ratings for UDR Inc. and related stocks with our FREE daily email newsletter.