CSI Compressco LP Declares Dividend of $0.19 (CCLP)
CSI Compressco LP (NASDAQ:CCLP) announced a dividend on Friday, April 21st. Stockholders of record on Monday, May 1st will be paid a dividend of 0.1875 per share by the oil and gas company on Monday, May 15th. The ex-dividend date of this dividend is Thursday, April 27th.
Shares of CSI Compressco (NASDAQ:CCLP) traded down 3.62% during midday trading on Friday, hitting $9.31. The stock had a trading volume of 488,560 shares. CSI Compressco has a 12-month low of $6.70 and a 12-month high of $13.54. The stock has a 50-day moving average price of $9.50 and a 200-day moving average price of $10.32. The stock's market cap is $311.29 million.
CSI Compressco (NASDAQ:CCLP) last posted its quarterly earnings results on Tuesday, February 28th. The oil and gas company reported ($0.36) EPS for the quarter, missing the Zacks' consensus estimate of ($0.12) by $0.24. The firm earned $82.87 million during the quarter, compared to analyst estimates of $68.86 million. CSI Compressco had a negative return on equity of 16.49% and a negative net margin of 84.56%. Equities analysts forecast that CSI Compressco will post ($0.48) earnings per share for the current year.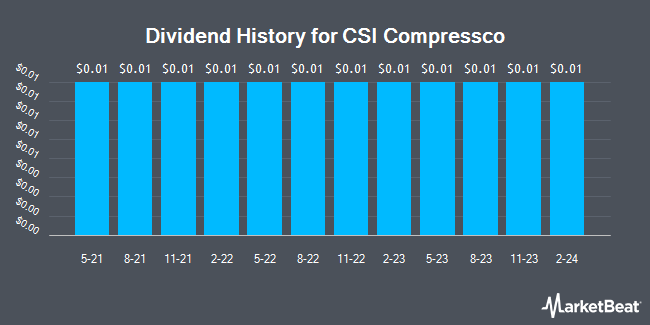 COPYRIGHT VIOLATION NOTICE: "CSI Compressco LP Declares Dividend of $0.19 (CCLP)" was first posted by The Cerbat Gem and is owned by of The Cerbat Gem. If you are accessing this news story on another website, it was illegally copied and republished in violation of US and international copyright legislation. The correct version of this news story can be viewed at https://www.thecerbatgem.com/2017/04/21/csi-compressco-lp-declares-dividend-of-0-19-cclp.html.
Separately, Zacks Investment Research downgraded CSI Compressco from a "hold" rating to a "strong sell" rating in a research note on Monday, January 16th.
About CSI Compressco
CSI Compressco LP is a provider of compression services and equipment for natural gas and oil production, gathering, transportation, processing and storage. The Company sells custom-designed compressor packages and oilfield fluid pump systems, and provides aftermarket services and compressor package parts and components manufactured by third-party suppliers.
Receive News & Stock Ratings for CSI Compressco LP Daily - Enter your email address below to receive a concise daily summary of the latest news and analysts' ratings for CSI Compressco LP and related stocks with our FREE daily email newsletter.