Aecom (ACM) Releases FY17 Earnings Guidance
Aecom (NYSE:ACM) issued an update on its FY17 earnings guidance on Tuesday morning. The company provided earnings per share (EPS) guidance of $2.80-3.20 for the period, compared to the Thomson Reuters consensus estimate of $2.93.
Shares of Aecom (NYSE:ACM) traded up 1.14% during mid-day trading on Friday, hitting $32.80. The stock had a trading volume of 298,844 shares. Aecom has a 1-year low of $26.46 and a 1-year high of $40.72. The firm has a market capitalization of $5.11 billion, a price-to-earnings ratio of 23.10 and a beta of 1.90. The stock's 50-day moving average is $33.78 and its 200 day moving average is $35.57.
Aecom (NYSE:ACM) last announced its earnings results on Tuesday, May 9th. The construction company reported $0.89 earnings per share for the quarter, beating the Zacks' consensus estimate of $0.55 by $0.34. Aecom had a net margin of 0.94% and a return on equity of 12.28%. The business had revenue of $4.43 billion during the quarter, compared to the consensus estimate of $4.47 billion. During the same quarter last year, the firm earned $0.87 earnings per share. The business's revenue for the quarter was up 1.0% on a year-over-year basis. Equities research analysts predict that Aecom will post $2.98 EPS for the current fiscal year.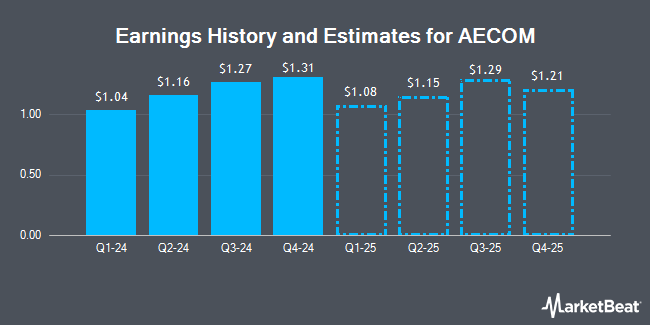 A number of equities analysts have weighed in on ACM shares. TheStreet raised shares of Aecom from a c+ rating to a b rating in a research note on Thursday, March 16th. Zacks Investment Research upgraded shares of Aecom from a hold rating to a buy rating and set a $37.00 price target on the stock in a report on Tuesday, April 18th. Deutsche Bank AG reiterated a hold rating and set a $38.00 price target (down previously from $41.00) on shares of Aecom in a report on Saturday, April 22nd. Robert W. Baird cut shares of Aecom from an outperform rating to a neutral rating and cut their price target for the company from $45.00 to $40.00 in a report on Friday, April 7th. Finally, DA Davidson restated a neutral rating on shares of Aecom in a report on Wednesday, February 8th. Five equities research analysts have rated the stock with a hold rating and six have given a buy rating to the stock. The stock currently has a consensus rating of Buy and a consensus target price of $40.88.
In other Aecom news, EVP Carla J. Christofferson sold 9,599 shares of the stock in a transaction that occurred on Friday, March 24th. The shares were sold at an average price of $34.60, for a total value of $332,125.40. The transaction was disclosed in a filing with the SEC, which can be accessed through this hyperlink. 1.14% of the stock is currently owned by company insiders.
TRADEMARK VIOLATION WARNING: "Aecom (ACM) Releases FY17 Earnings Guidance" was originally posted by The Cerbat Gem and is the property of of The Cerbat Gem. If you are reading this story on another domain, it was illegally copied and republished in violation of international copyright and trademark laws. The legal version of this story can be viewed at https://www.thecerbatgem.com/2017/05/19/aecom-acm-updates-fy17-earnings-guidance-updated.html.
About Aecom
AECOM is engaged in designing, building, financing and operating infrastructure assets for governments, businesses and organizations. The Company's segments include design and consulting services (DCS), construction services (CS) and management services (MS). Its DCS segment is engaged in planning, consulting, architectural and engineering design services to commercial and government clients in major end markets, such as transportation, facilities, environmental, energy, water and government.
Receive News & Stock Ratings for Aecom Daily - Enter your email address below to receive a concise daily summary of the latest news and analysts' ratings for Aecom and related stocks with our FREE daily email newsletter.