Ronald O. Perelman Buys 120,618 Shares of Revlon, Inc. (REV) Stock
Revlon, Inc. (NYSE:REV) Director Ronald O. Perelman acquired 120,618 shares of the company's stock in a transaction on Monday, June 19th. The shares were purchased at an average cost of $22.91 per share, for a total transaction of $2,763,358.38. The transaction was disclosed in a legal filing with the SEC, which is accessible through this link.
Revlon, Inc. (NYSE REV) opened at 23.30 on Friday. The stock's market cap is $1.22 billion. Revlon, Inc. has a one year low of $18.15 and a one year high of $37.96. The firm's 50 day moving average price is $20.51 and its 200 day moving average price is $27.70.
Revlon (NYSE:REV) last issued its earnings results on Friday, May 5th. The company reported ($0.23) earnings per share (EPS) for the quarter. The company had revenue of $594.90 million during the quarter. Revlon had a negative net margin of 2.82% and a negative return on equity of 9.87%. Equities analysts forecast that Revlon, Inc. will post $1.80 earnings per share for the current year.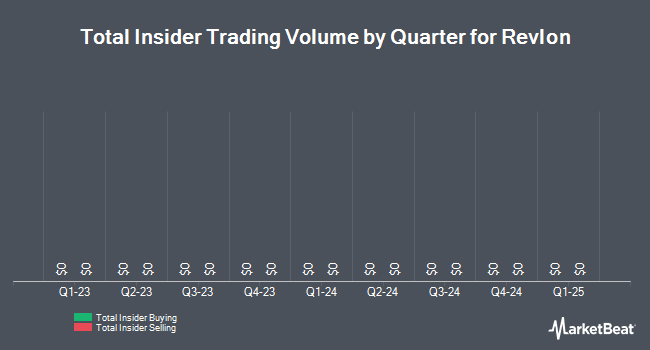 COPYRIGHT VIOLATION NOTICE: This news story was originally published by The Cerbat Gem and is owned by of The Cerbat Gem. If you are accessing this news story on another domain, it was illegally stolen and republished in violation of US & international trademark & copyright legislation. The correct version of this news story can be accessed at https://www.thecerbatgem.com/2017/06/23/ronald-o-perelman-buys-120618-shares-of-revlon-inc-rev-stock.html.
Several equities analysts have issued reports on the company. BidaskClub raised Revlon from a "strong sell" rating to a "sell" rating in a report on Friday, June 16th. TheStreet lowered Revlon from a "c" rating to a "d+" rating in a report on Tuesday, March 28th.
About Revlon
Revlon, Inc manufactures, markets and sells around the world a range of beauty and personal care products, including color cosmetics, hair color, hair care and hair treatments, as well as beauty tools, men's grooming products, anti-perspirant deodorants, fragrances, skincare and other beauty care products.
Receive News & Stock Ratings for Revlon Inc. Daily - Enter your email address below to receive a concise daily summary of the latest news and analysts' ratings for Revlon Inc. and related stocks with our FREE daily email newsletter.