Brokerages Set Bank of Nova Scotia (BNS) Price Target at $84.82
Shares of Bank of Nova Scotia (TSE:BNS) (NYSE:BNS) have earned a consensus rating of "Buy" from the twelve brokerages that are currently covering the company, Marketbeat reports. Seven investment analysts have rated the stock with a buy rating. The average 12 month price objective among brokerages that have issued a report on the stock in the last year is C$84.82.
Several research analysts have recently weighed in on BNS shares. Royal Bank Of Canada reiterated an "outperform" rating and set a C$86.00 price objective on shares of Bank of Nova Scotia in a report on Tuesday, April 18th. Barclays PLC upgraded shares of Bank of Nova Scotia from an "equal weight" rating to an "overweight" rating in a report on Tuesday, May 23rd. Finally, Scotiabank raised their price target on shares of Bank of Nova Scotia from C$86.00 to C$89.00 and gave the company an "outperform" rating in a report on Wednesday, May 31st.
Shares of Bank of Nova Scotia (BNS) traded up 0.29% on Tuesday, hitting $78.23. 992,526 shares of the company were exchanged. The firm has a market cap of $94.02 billion and a P/E ratio of 12.44. Bank of Nova Scotia has a 52-week low of $65.09 and a 52-week high of $82.30. The company has a 50-day moving average price of $78.32 and a 200 day moving average price of $77.92.
Bank of Nova Scotia (TSE:BNS) (NYSE:BNS) last announced its quarterly earnings data on Tuesday, May 30th. The bank reported $1.63 earnings per share for the quarter, topping the Thomson Reuters' consensus estimate of $1.56 by $0.07. The business had revenue of $6.58 billion for the quarter, compared to analyst estimates of $6.61 billion. Bank of Nova Scotia had a net margin of 31.32% and a return on equity of 14.58%. Analysts predict that Bank of Nova Scotia will post $6.46 EPS for the current fiscal year.
The company also recently disclosed a quarterly dividend, which was paid on Thursday, July 27th. Shareholders of record on Tuesday, July 4th were given a $0.76 dividend. This represents a $3.04 annualized dividend and a yield of 3.89%. The ex-dividend date of this dividend was Thursday, June 29th.
In other news, Director Brian J. Porter acquired 1,000 shares of the stock in a transaction on Thursday, June 8th. The stock was bought at an average price of C$77.74 per share, with a total value of C$77,740.00.
COPYRIGHT VIOLATION NOTICE: This piece of content was originally published by The Cerbat Gem and is owned by of The Cerbat Gem. If you are accessing this piece of content on another publication, it was illegally copied and republished in violation of US and international copyright laws. The original version of this piece of content can be read at https://www.thecerbatgem.com/2017/08/05/bank-of-nova-scotia-bns-receives-consensus-rating-of-buy-from-brokerages-updated-updated-updated.html.
Bank of Nova Scotia Company Profile
The Bank of Nova Scotia provides various financial services in North America, Latin America, the Caribbean and Central America, and the Asia-Pacific. It offers financial advice, solutions, and day-to-day banking products, including debit cards, checking and saving accounts, credit cards, investments, mortgages, loans, and related creditor insurance products to individuals and small businesses; and commercial banking solutions comprising lending, deposit, cash management, and trade finance solutions to medium and large businesses comprising automotive dealers and their customers.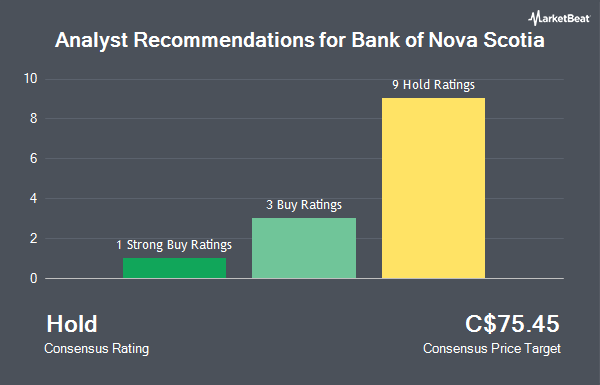 Receive News & Stock Ratings for Bank of Nova Scotia Daily - Enter your email address below to receive a concise daily summary of the latest news and analysts' ratings for Bank of Nova Scotia and related stocks with our FREE daily email newsletter.