MSCI Inc (MSCI) to Issue Quarterly Dividend of $0.38 on August 31st
MSCI Inc (NYSE:MSCI) announced a quarterly dividend on Thursday, August 3rd, NASDAQ reports. Shareholders of record on Friday, August 18th will be paid a dividend of 0.38 per share by the technology company on Thursday, August 31st. This represents a $1.52 dividend on an annualized basis and a yield of 1.38%. The ex-dividend date is Wednesday, August 16th. This is a boost from MSCI's previous quarterly dividend of $0.28.
MSCI has a dividend payout ratio of 40.1% meaning its dividend is sufficiently covered by earnings. Research analysts expect MSCI to earn $4.45 per share next year, which means the company should continue to be able to cover its $1.52 annual dividend with an expected future payout ratio of 34.2%.
Shares of MSCI (NYSE MSCI) opened at 110.28 on Tuesday. The stock has a market capitalization of $9.93 billion, a price-to-earnings ratio of 35.71 and a beta of 1.04. MSCI has a 52 week low of $76.52 and a 52 week high of $113.38. The firm's 50-day moving average is $107.16 and its 200-day moving average is $99.99.
MSCI (NYSE:MSCI) last announced its earnings results on Thursday, August 3rd. The technology company reported $0.95 earnings per share for the quarter, beating the Thomson Reuters' consensus estimate of $0.90 by $0.05. The company had revenue of $316.08 million during the quarter, compared to the consensus estimate of $314.03 million. MSCI had a net margin of 24.01% and a return on equity of 87.11%. MSCI's revenue was up 8.8% compared to the same quarter last year. During the same period last year, the firm earned $0.77 earnings per share. Analysts forecast that MSCI will post $3.80 earnings per share for the current fiscal year.
MSCI has been the subject of a number of research analyst reports. Cantor Fitzgerald reaffirmed a "buy" rating and issued a $100.00 price target on shares of MSCI in a report on Friday, May 5th. UBS AG reaffirmed a "buy" rating and issued a $114.00 price target (up previously from $99.00) on shares of MSCI in a report on Friday, May 5th. Credit Suisse Group decreased their price target on shares of MSCI from $105.00 to $94.00 and set an "outperform" rating for the company in a report on Friday, May 5th. Morgan Stanley raised their price target on shares of MSCI from $93.00 to $98.00 and gave the stock an "equal weight" rating in a report on Monday, May 8th. Finally, BidaskClub cut shares of MSCI from a "strong-buy" rating to a "buy" rating in a report on Thursday, June 22nd. One equities research analyst has rated the stock with a sell rating, two have assigned a hold rating, four have given a buy rating and one has issued a strong buy rating to the company. MSCI has a consensus rating of "Buy" and an average price target of $106.29.
In other MSCI news, COO Cd Baer Pettit sold 2,083 shares of the firm's stock in a transaction on Monday, August 7th. The shares were sold at an average price of $111.16, for a total value of $231,546.28. Following the completion of the transaction, the chief operating officer now owns 178,266 shares of the company's stock, valued at $19,816,048.56. The transaction was disclosed in a filing with the SEC, which is available at this link. In the last ninety days, insiders sold 6,249 shares of company stock valued at $663,581. Corporate insiders own 2.26% of the company's stock.
COPYRIGHT VIOLATION WARNING: This story was first reported by The Cerbat Gem and is the property of of The Cerbat Gem. If you are viewing this story on another publication, it was stolen and reposted in violation of US & international copyright and trademark legislation. The legal version of this story can be read at https://www.thecerbatgem.com/2017/08/15/msci-inc-msci-to-issue-quarterly-dividend-of-0-38-on-august-31st.html.
MSCI Company Profile
MSCI Inc offers products and services to support the needs of institutional investors throughout their investment processes. Its segments include Index, Analytics and All Other segment. All Other segment comprises environmental, social and governance (ESG) and Real Estate segments. Its indexes are used in various areas of the investment process, including index-linked product creation and performance benchmarking, as well as portfolio construction and rebalancing, and asset allocation.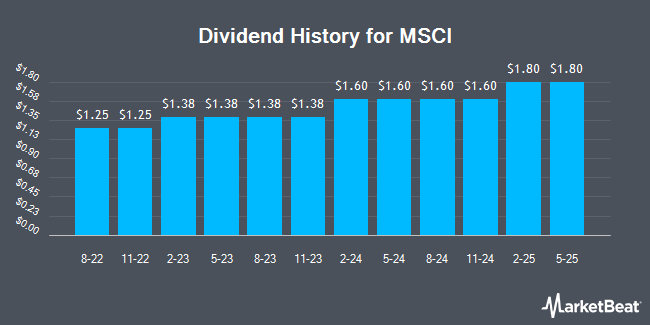 Receive News & Stock Ratings for MSCI Inc Daily - Enter your email address below to receive a concise daily summary of the latest news and analysts' ratings for MSCI Inc and related stocks with our FREE daily email newsletter.