Manitowoc Food Service, Inc. (NYSE:WBT) Issues Earnings Results, Beats Expectations By $0.04 EPS
Manitowoc Food Service, Inc. (NYSE:WBT) released its quarterly earnings results on Wednesday, August 9th. The industrial products company reported $0.22 EPS for the quarter, topping the consensus estimate of $0.18 by $0.04, MarketWatch Earnings reports. Manitowoc Food Service had a negative return on equity of 280.03% and a net margin of 5.57%. The business had revenue of $371.10 million during the quarter, compared to analyst estimates of $367.28 million. The firm's quarterly revenue was up .7% on a year-over-year basis. Manitowoc Food Service updated its FY17 guidance to $0.74-0.84 EPS.
Shares of Manitowoc Food Service (NYSE:WBT) traded down 0.10% during mid-day trading on Friday, hitting $19.67. The stock had a trading volume of 335,249 shares. Manitowoc Food Service has a 12-month low of $14.93 and a 12-month high of $21.13. The stock has a market cap of $2.73 billion, a P/E ratio of 33.97 and a beta of 2.28. The company's 50 day moving average price is $19.42 and its 200 day moving average price is $19.38.
In other news, SVP Joel H. Horn sold 1,561 shares of the business's stock in a transaction on Wednesday, June 14th. The shares were sold at an average price of $19.23, for a total transaction of $30,018.03. Following the completion of the sale, the senior vice president now directly owns 3,515 shares of the company's stock, valued at approximately $67,593.45. The sale was disclosed in a filing with the Securities & Exchange Commission, which can be accessed through this link. 0.67% of the stock is owned by insiders.
Several research analysts have recently commented on WBT shares. Zacks Investment Research upgraded Manitowoc Food Service from a "hold" rating to a "buy" rating and set a $23.00 price target for the company in a research report on Friday, April 28th. Dougherty & Co restated a "neutral" rating on shares of Manitowoc Food Service in a research report on Thursday. Two analysts have rated the stock with a hold rating and three have issued a buy rating to the company's stock. The stock presently has a consensus rating of "Buy" and a consensus target price of $21.40.
TRADEMARK VIOLATION NOTICE: This piece was first reported by The Cerbat Gem and is the property of of The Cerbat Gem. If you are viewing this piece on another site, it was illegally copied and reposted in violation of U.S. & international trademark & copyright legislation. The legal version of this piece can be read at https://www.thecerbatgem.com/2017/08/19/manitowoc-food-service-inc-nysewbt-announces-quarterly-earnings-results-updated.html.
Manitowoc Food Service Company Profile
Welbilt, Inc, formerly Manitowoc Foodservice, Inc, is a commercial foodservice equipment company. The Company designs, manufactures and supplies food and beverage equipment for the global commercial foodservice market, offering customers operator and patron insights, kitchen solutions, culinary expertise, and implementation support and service.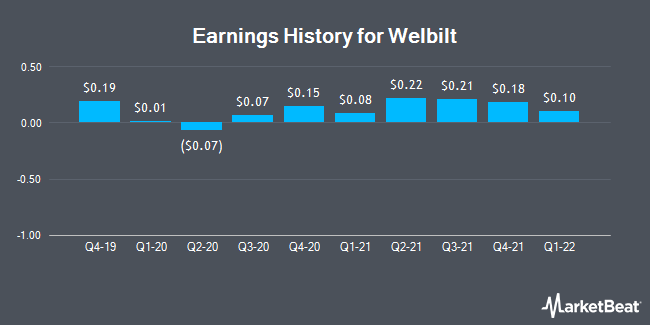 Receive News & Stock Ratings for Manitowoc Food Service Inc. Daily - Enter your email address below to receive a concise daily summary of the latest news and analysts' ratings for Manitowoc Food Service Inc. and related stocks with our FREE daily email newsletter.