TransAlta Renewables Inc (RNW) Receives C$14.88 Consensus Target Price from Analysts
TransAlta Renewables Inc (TSE:RNW) has been assigned a consensus rating of "Hold" from the seven research firms that are currently covering the company, Marketbeat.com reports. Five analysts have rated the stock with a hold rating. The average twelve-month target price among analysts that have covered the stock in the last year is C$14.88.
A number of brokerages recently commented on RNW. TD Securities cut shares of TransAlta Renewables from a "buy" rating to a "hold" rating and increased their price objective for the company from C$15.00 to C$16.00 in a research note on Thursday, May 4th. National Bank Financial restated a "sector perform under weight" rating on shares of TransAlta Renewables in a report on Thursday, July 20th.
ILLEGAL ACTIVITY WARNING: "TransAlta Renewables Inc (RNW) Receives C$14.88 Consensus Target Price from Analysts" was posted by The Cerbat Gem and is the sole property of of The Cerbat Gem. If you are viewing this news story on another domain, it was copied illegally and reposted in violation of US and international copyright legislation. The original version of this news story can be viewed at https://www.thecerbatgem.com/2017/08/21/transalta-renewables-inc-rnw-receives-c14-88-consensus-target-price-from-analysts.html.
TransAlta Renewables (TSE RNW) traded down 0.14% during mid-day trading on Friday, reaching $14.29. 50,539 shares of the company traded hands. The firm has a market capitalization of $3.59 billion and a price-to-earnings ratio of 32.63. The stock's 50 day moving average price is $14.75 and its 200 day moving average price is $15.30. TransAlta Renewables has a 52 week low of $12.66 and a 52 week high of $16.25.
The company also recently announced a monthly dividend, which will be paid on Friday, September 29th. Shareholders of record on Friday, September 1st will be issued a $0.078 dividend. This represents a $0.94 dividend on an annualized basis and a yield of 6.54%. This is a positive change from TransAlta Renewables's previous monthly dividend of $0.07. The ex-dividend date is Wednesday, August 30th.
About TransAlta Renewables
TransAlta Renewables Inc develops, owns, and operates renewable power generation facilities. The company's portfolio consists of wind, hydro, and gas facilities. It owns and operates 18 wind facilities, 13 hydroelectric facilities, 8 natural gas generation facilities, and 1 natural gas pipeline comprising an ownership interest of 2,441 MW of net generating capacity located in the provinces of British Columbia, Alberta, Ontario, Quebec, and New Brunswick, Canada; the State of Wyoming; and the State of Western Australia.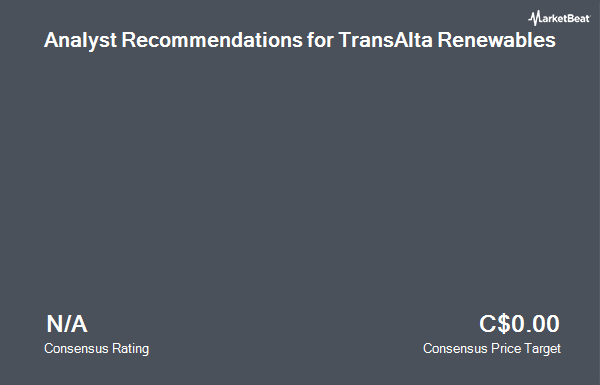 Receive News & Stock Ratings for TransAlta Renewables Inc Daily - Enter your email address below to receive a concise daily summary of the latest news and analysts' ratings for TransAlta Renewables Inc and related stocks with our FREE daily email newsletter.