Magna International Inc. (MG) To Go Ex-Dividend on August 30th
Magna International Inc. (TSE:MG) (NYSE:MGA) announced a quarterly dividend on Friday, August 11th, Zacks reports. Investors of record on Friday, September 1st will be given a dividend of 0.275 per share on Friday, September 15th. This represents a $1.10 dividend on an annualized basis and a dividend yield of 1.88%. The ex-dividend date of this dividend is Wednesday, August 30th. This is a boost from Magna International's previous quarterly dividend of $0.25.
Shares of Magna International (TSE MG) opened at 58.45 on Tuesday. The company has a 50 day moving average price of $59.85 and a 200-day moving average price of $58.67. Magna International has a 52-week low of $49.44 and a 52-week high of $62.94. The firm has a market cap of $21.62 billion and a P/E ratio of 10.56.
WARNING: This piece of content was reported by The Cerbat Gem and is owned by of The Cerbat Gem. If you are viewing this piece of content on another site, it was illegally copied and reposted in violation of US and international copyright & trademark law. The legal version of this piece of content can be read at https://www.thecerbatgem.com/2017/08/29/magna-international-inc-mg-to-go-ex-dividend-on-august-30th.html.
Separately, BMO Capital Markets set a C$47.00 target price on shares of Magna International and gave the stock a "market perform" rating in a report on Friday, May 12th. Two research analysts have rated the stock with a hold rating and three have issued a buy rating to the stock. The stock has a consensus rating of "Buy" and an average price target of C$59.38.
In related news, insider Francis Seguin acquired 12,000 shares of the firm's stock in a transaction dated Friday, June 16th. The stock was purchased at an average cost of C$57.21 per share, with a total value of C$686,520.00. Also, insider Seetarama Swamy Kotagiri sold 10,000 shares of the company's stock in a transaction that occurred on Thursday, June 1st. The shares were sold at an average price of C$45.85, for a total transaction of C$458,500.00.
About Magna International
Magna International Inc designs, develops, and manufactures automotive systems, assemblies, modules, and components in North America, Europe, Asia, and South America. The company offers engineering and contract manufacturing services, and fuel systems; electric/electronic components and systems; roof systems comprising softtops, retractable hardtops, modular tops, and hardtops; and closures, including latching systems, hinges and wire forming, power closures, electronics, door modules, window systems engineered glass, sealing, trim and roof racks, roof systems, testing centers, and running boards.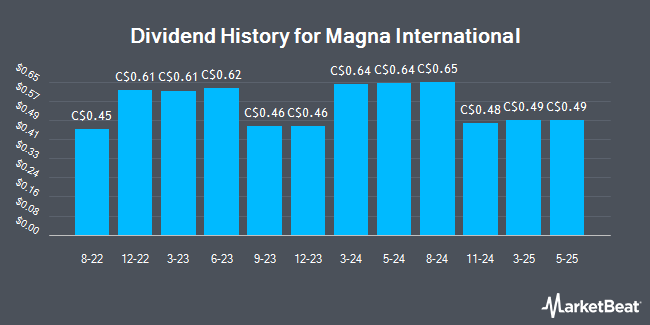 Receive News & Stock Ratings for Magna International Inc. Daily - Enter your email address below to receive a concise daily summary of the latest news and analysts' ratings for Magna International Inc. and related stocks with our FREE daily email newsletter.