Canadian Utilities Limited (CU) Director Patrick F. Donovan Sells 329 Shares
Canadian Utilities Limited (TSE:CU) Director Patrick F. Donovan sold 329 shares of the company's stock in a transaction dated Tuesday, September 5th. The shares were sold at an average price of C$38.89, for a total transaction of C$12,794.81.
Canadian Utilities Limited (CU) traded down 0.20% on Friday, reaching $39.18. 97,915 shares of the company's stock were exchanged. The stock has a market capitalization of $10.55 billion and a PE ratio of 18.31. The firm has a 50 day moving average of $39.54 and a 200 day moving average of $39.63. Canadian Utilities Limited has a 12 month low of $34.83 and a 12 month high of $42.44.
The business also recently announced a quarterly dividend, which was paid on Friday, September 1st. Investors of record on Thursday, August 10th were given a dividend of $0.357 per share. The ex-dividend date of this dividend was Tuesday, August 8th. This represents a $1.43 dividend on an annualized basis and a yield of 3.64%. This is a positive change from Canadian Utilities Limited's previous quarterly dividend of $0.23.
ILLEGAL ACTIVITY NOTICE: "Canadian Utilities Limited (CU) Director Patrick F. Donovan Sells 329 Shares" was first published by The Cerbat Gem and is owned by of The Cerbat Gem. If you are reading this piece on another site, it was stolen and reposted in violation of international copyright legislation. The legal version of this piece can be viewed at https://www.thecerbatgem.com/2017/09/08/canadian-utilities-limited-cu-director-patrick-f-donovan-sells-329-shares.html.
Separately, National Bank Financial lowered shares of Canadian Utilities Limited from an "outperform" rating to a "sector perform" rating and set a C$45.00 price target for the company. in a research report on Friday, July 28th. One investment analyst has rated the stock with a sell rating and four have given a hold rating to the stock. Canadian Utilities Limited presently has a consensus rating of "Hold" and an average target price of C$41.20.
Canadian Utilities Limited Company Profile
Canadian Utilities Limited is a global enterprise company. Its segments include Electricity, Pipeline & Liquids, and Corporate & Other. Its Electricity segment's activities are conducted through two regulated businesses; ATCO Electric Distribution and ATCO Electric Transmission, and three non-regulated businesses, ATCO Power, ATCO Power Australia and Alberta PowerLine (APL).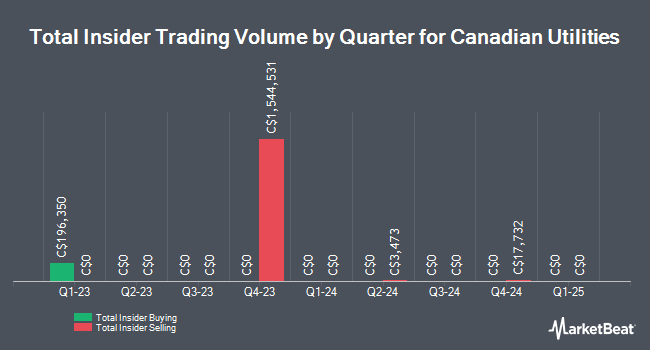 Receive News & Stock Ratings for Canadian Utilities Limited Daily - Enter your email address below to receive a concise daily summary of the latest news and analysts' ratings for Canadian Utilities Limited and related stocks with our FREE daily email newsletter.