Kenneth A. Minor Buys 3,400 Shares of Sonic Foundry, Inc. (SOFO) Stock
Sonic Foundry, Inc. (NASDAQ:SOFO) CFO Kenneth A. Minor bought 3,400 shares of the stock in a transaction dated Wednesday, September 6th. The shares were bought at an average cost of $3.15 per share, with a total value of $10,710.00. Following the completion of the purchase, the chief financial officer now directly owns 39,159 shares of the company's stock, valued at approximately $123,350.85. The transaction was disclosed in a document filed with the Securities & Exchange Commission, which can be accessed through this link.
Shares of Sonic Foundry, Inc. (NASDAQ:SOFO) traded up 2.25% during mid-day trading on Friday, hitting $3.18. 628 shares of the stock were exchanged. The stock's market cap is $14.18 million. Sonic Foundry, Inc. has a 12 month low of $3.05 and a 12 month high of $6.49. The company has a 50-day moving average price of $3.51 and a 200-day moving average price of $4.27.
Sonic Foundry (NASDAQ:SOFO) last released its quarterly earnings results on Thursday, August 10th. The software maker reported ($0.13) earnings per share for the quarter. The business had revenue of $9.83 million for the quarter. Sonic Foundry had a negative return on equity of 96.92% and a negative net margin of 11.58%. Equities analysts expect that Sonic Foundry, Inc. will post $0.23 earnings per share for the current year.
ILLEGAL ACTIVITY NOTICE: This piece was originally reported by The Cerbat Gem and is owned by of The Cerbat Gem. If you are viewing this piece on another website, it was illegally stolen and republished in violation of United States and international copyright and trademark law. The legal version of this piece can be accessed at https://www.thecerbatgem.com/2017/09/08/kenneth-a-minor-buys-3400-shares-of-sonic-foundry-inc-sofo-stock.html.
About Sonic Foundry
Sonic Foundry, Inc is engaged in the business of providing enterprise solutions and services for the Web communications market. The Company is engaged in offering video capture, management and Webcasting solutions in education, business and government. Using its Mediasite Webcasting platform and Webcast services of the Company's events team, the Company allows its customers to share knowledge online, using video Webcasts to bridge time and distance, and develop learning outcomes.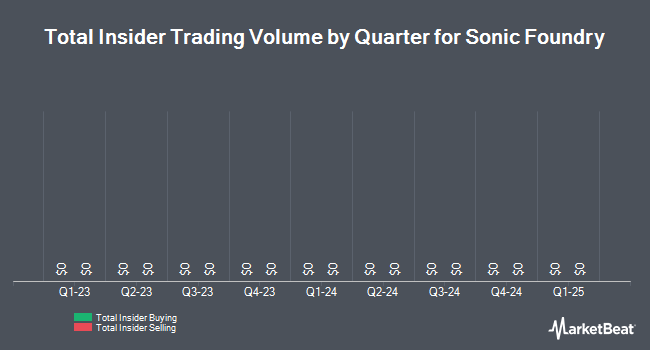 Receive News & Stock Ratings for Sonic Foundry Inc. Daily - Enter your email address below to receive a concise daily summary of the latest news and analysts' ratings for Sonic Foundry Inc. and related stocks with our FREE daily email newsletter.