Martinrea International Inc (MRE) Receives C$13.50 Consensus PT from Analysts
Shares of Martinrea International Inc (TSE:MRE) have received an average rating of "Buy" from the six analysts that are covering the firm, Marketbeat Ratings reports. One investment analyst has rated the stock with a hold recommendation and four have issued a buy recommendation on the company. The average 12-month price objective among analysts that have issued a report on the stock in the last year is C$13.50.
MRE has been the subject of several recent research reports. BMO Capital Markets raised Martinrea International from a "market perform" rating to an "outperform" rating and upped their price objective for the stock from C$11.00 to C$14.00 in a research report on Wednesday, August 9th. Royal Bank Of Canada upped their price objective on Martinrea International from C$16.00 to C$17.00 and gave the stock an "outperform" rating in a research report on Wednesday, August 9th. Finally, Scotiabank upped their price objective on Martinrea International from C$15.00 to C$15.50 and gave the stock a "sector perform" rating in a research report on Wednesday, August 9th.
Shares of Martinrea International (MRE) traded up 0.46% during midday trading on Wednesday, hitting $10.88. The stock had a trading volume of 782,659 shares. The company has a market capitalization of $941.25 million and a PE ratio of 6.25. The firm's 50-day moving average is $10.60 and its 200 day moving average is $10.41. Martinrea International has a one year low of $6.70 and a one year high of $12.02.
The company also recently disclosed a quarterly dividend, which will be paid on Sunday, October 15th. Stockholders of record on Saturday, September 30th will be given a dividend of $0.03 per share. The ex-dividend date is Thursday, September 28th. This represents a $0.12 annualized dividend and a dividend yield of 1.10%.
In related news, insider Kerri Lynn Pope purchased 4,600 shares of Martinrea International stock in a transaction that occurred on Friday, August 11th. The stock was purchased at an average cost of C$10.65 per share, with a total value of C$48,990.00. Insiders have purchased 8,215 shares of company stock valued at $87,653 over the last three months.
TRADEMARK VIOLATION NOTICE: This article was first published by The Cerbat Gem and is the property of of The Cerbat Gem. If you are accessing this article on another publication, it was illegally stolen and republished in violation of US and international trademark and copyright legislation. The original version of this article can be viewed at https://www.thecerbatgem.com/2017/09/11/martinrea-international-inc-mre-receives-c13-50-consensus-pt-from-analysts.html.
About Martinrea International
Martinrea International Inc is a Canada-based company engaged in the development and production of metal parts, assemblies and modules, fluid management systems and complex aluminum products focused primarily on the automotive sector. The Company's segments are North America, Europe and Rest of the World.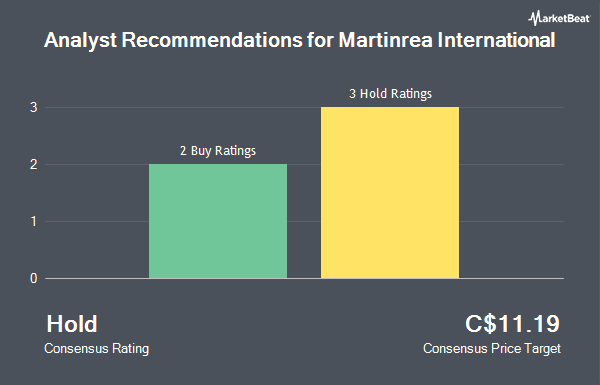 Receive News & Stock Ratings for Martinrea International Inc Daily - Enter your email address below to receive a concise daily summary of the latest news and analysts' ratings for Martinrea International Inc and related stocks with our FREE daily email newsletter.