Actuant Corporation (ATU) Posts Quarterly Earnings Results, Misses Expectations By $0.02 EPS
Actuant Corporation (NYSE:ATU) announced its quarterly earnings results on Wednesday. The industrial products company reported $0.19 earnings per share (EPS) for the quarter, missing the Thomson Reuters' consensus estimate of $0.21 by ($0.02), MarketWatch Earnings reports. The firm had revenue of $275.70 million for the quarter, compared to analyst estimates of $265.33 million. Actuant Corporation had a net margin of 4.56% and a return on equity of 10.58%. The firm's quarterly revenue was up .0% compared to the same quarter last year. During the same quarter in the prior year, the firm earned $0.30 earnings per share. Actuant Corporation updated its Q1 guidance to $0.14-0.19 EPS and its FY18 guidance to $1.05-1.15 EPS.
Actuant Corporation (NYSE ATU) opened at 25.10 on Thursday. The firm has a 50-day moving average price of $24.07 and a 200 day moving average price of $25.26. Actuant Corporation has a 12 month low of $20.54 and a 12 month high of $29.80. The company has a market capitalization of $1.50 billion, a P/E ratio of 29.88 and a beta of 1.61.
The firm also recently declared a quarterly dividend, which will be paid on Monday, October 16th. Shareholders of record on Friday, September 29th will be given a $0.04 dividend. This represents a $0.16 annualized dividend and a yield of 0.60%. The ex-dividend date is Thursday, September 28th. Actuant Corporation's dividend payout ratio is currently 4.88%.
ILLEGAL ACTIVITY NOTICE: This piece of content was originally reported by The Cerbat Gem and is the sole property of of The Cerbat Gem. If you are accessing this piece of content on another site, it was illegally stolen and republished in violation of U.S. and international trademark and copyright laws. The legal version of this piece of content can be viewed at https://www.thecerbatgem.com/2017/09/27/actuant-corporation-atu-releases-earnings-results-misses-estimates-by-0-03-eps.html.
Several equities research analysts have recently issued reports on the company. BMO Capital Markets lifted their price target on Actuant Corporation from $22.00 to $23.00 and gave the company a "market perform" rating in a report on Friday, August 18th. Stifel Nicolaus reduced their target price on Actuant Corporation from $28.00 to $26.00 and set a "hold" rating for the company in a report on Thursday, June 22nd. Royal Bank Of Canada restated a "hold" rating and issued a $28.00 target price on shares of Actuant Corporation in a report on Tuesday, June 6th. Gabelli upgraded Actuant Corporation from a "hold" rating to a "buy" rating in a report on Thursday, June 22nd. Finally, J P Morgan Chase & Co upgraded Actuant Corporation from an "underweight" rating to a "neutral" rating and reduced their target price for the stock from $23.00 to $21.00 in a report on Wednesday, June 21st. Two investment analysts have rated the stock with a sell rating, nine have issued a hold rating and four have assigned a buy rating to the company. Actuant Corporation has a consensus rating of "Hold" and an average target price of $26.44.
About Actuant Corporation
Actuant Corporation designs, manufactures and distributes a range of industrial products and systems to various end markets. The Company operates through three segments: Industrial, Energy and Engineered Solutions. The Company's Industrial segment is primarily involved in the design, manufacture and distribution of branded hydraulic and mechanical tools to the maintenance, industrial, infrastructure and production automation markets.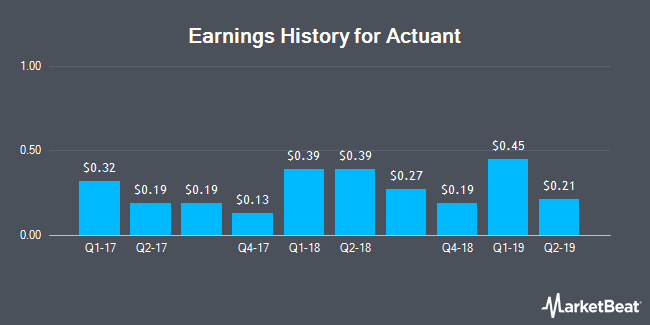 Receive News & Stock Ratings for Actuant Corporation Daily - Enter your email address below to receive a concise daily summary of the latest news and analysts' ratings for Actuant Corporation and related stocks with our FREE daily email newsletter.