Republic Services, Inc. (RSG) To Go Ex-Dividend on September 29th
Republic Services, Inc. (NYSE:RSG) announced a quarterly dividend on Thursday, July 27th, RTT News reports. Investors of record on Monday, October 2nd will be paid a dividend of 0.345 per share by the business services provider on Monday, October 16th. This represents a $1.38 annualized dividend and a yield of 2.07%. The ex-dividend date of this dividend is Friday, September 29th. This is an increase from Republic Services's previous quarterly dividend of $0.32.
Republic Services has raised its dividend payment by an average of 8.1% annually over the last three years and has raised its dividend annually for the last 7 consecutive years. Republic Services has a dividend payout ratio of 58.0% meaning its dividend is sufficiently covered by earnings. Equities analysts expect Republic Services to earn $2.63 per share next year, which means the company should continue to be able to cover its $1.38 annual dividend with an expected future payout ratio of 52.5%.
Shares of Republic Services (NYSE:RSG) opened at 66.59 on Thursday. The company has a 50-day moving average of $64.99 and a 200 day moving average of $63.81. Republic Services has a one year low of $49.18 and a one year high of $67.18. The firm has a market cap of $22.42 billion, a PE ratio of 34.18 and a beta of 0.60.
Republic Services (NYSE:RSG) last released its quarterly earnings results on Thursday, July 27th. The business services provider reported $0.61 earnings per share for the quarter, topping the Zacks' consensus estimate of $0.59 by $0.02. The firm had revenue of $2.53 billion during the quarter, compared to analysts' expectations of $2.47 billion. Republic Services had a return on equity of 10.42% and a net margin of 6.86%. Republic Services's quarterly revenue was up 7.5% compared to the same quarter last year. During the same quarter in the prior year, the business earned $0.55 EPS. On average, equities research analysts expect that Republic Services will post $2.39 EPS for the current fiscal year.
COPYRIGHT VIOLATION WARNING: "Republic Services, Inc. (RSG) To Go Ex-Dividend on September 29th" was originally reported by The Cerbat Gem and is the sole property of of The Cerbat Gem. If you are viewing this article on another website, it was illegally stolen and republished in violation of U.S. & international copyright legislation. The legal version of this article can be accessed at https://www.thecerbatgem.com/2017/09/28/republic-services-inc-rsg-to-go-ex-dividend-on-september-29th.html.
A number of equities analysts have weighed in on RSG shares. Stifel Nicolaus restated a "buy" rating and issued a $73.00 price target on shares of Republic Services in a report on Wednesday, July 19th. Zacks Investment Research upgraded Republic Services from a "hold" rating to a "buy" rating and set a $72.00 price target for the company in a report on Friday, July 14th. Credit Suisse Group set a $69.00 price target on Republic Services and gave the stock a "hold" rating in a report on Saturday, July 29th. Oppenheimer Holdings, Inc. restated a "hold" rating on shares of Republic Services in a report on Friday, August 25th. Finally, KeyCorp reiterated a "hold" rating on shares of Republic Services in a research note on Thursday, August 24th. One investment analyst has rated the stock with a sell rating, eight have issued a hold rating and three have issued a buy rating to the stock. Republic Services presently has a consensus rating of "Hold" and a consensus target price of $71.88.
In other news, EVP Jeffrey A. Hughes sold 6,329 shares of the stock in a transaction that occurred on Tuesday, September 12th. The stock was sold at an average price of $66.50, for a total transaction of $420,878.50. Following the completion of the transaction, the executive vice president now directly owns 428 shares in the company, valued at approximately $28,462. The transaction was disclosed in a document filed with the SEC, which is accessible through this link. Corporate insiders own 0.40% of the company's stock.
About Republic Services
Republic Services, Inc is a provider of non-hazardous solid waste collection, transfer, disposal, recycling and energy services. The Company's segments include Group 1, Group 2 and Corporate entities. Its Group 1 and Group 2 segments provide integrated waste management services. Group 1 consists of geographic areas located in the western and portions of the mid-western United States.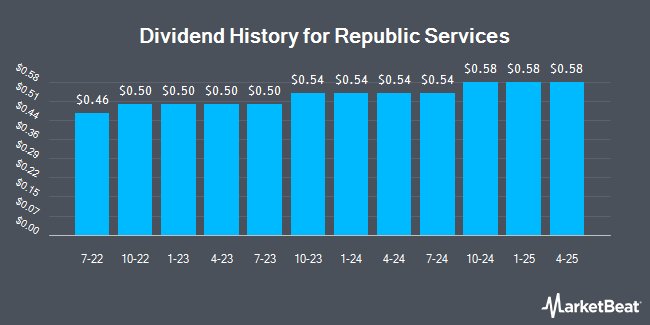 Receive News & Stock Ratings for Republic Services Inc. Daily - Enter your email address below to receive a concise daily summary of the latest news and analysts' ratings for Republic Services Inc. and related stocks with our FREE daily email newsletter.