Wells Fargo & Company MN Grows Stake in Taiwan Fund, Inc. (The) (TWN)
Wells Fargo & Company MN lifted its holdings in Taiwan Fund, Inc. (The) (NYSE:TWN) by 0.4% during the second quarter, according to its most recent disclosure with the Securities and Exchange Commission (SEC). The firm owned 354,228 shares of the company's stock after acquiring an additional 1,372 shares during the quarter. Wells Fargo & Company MN's holdings in Taiwan Fund, Inc. (The) were worth $7,010,000 as of its most recent SEC filing.
Shares of Taiwan Fund, Inc. (NYSE TWN) opened at 21.06 on Monday. Taiwan Fund, Inc. has a 1-year low of $15.50 and a 1-year high of $21.56. The stock has a 50 day moving average of $21.11 and a 200-day moving average of $19.88.
COPYRIGHT VIOLATION NOTICE: This story was first reported by The Cerbat Gem and is the property of of The Cerbat Gem. If you are viewing this story on another website, it was illegally copied and reposted in violation of international trademark and copyright legislation. The correct version of this story can be viewed at https://www.thecerbatgem.com/2017/10/09/wells-fargo-company-mn-grows-stake-in-taiwan-fund-inc-the-twn.html.
In other Taiwan Fund, Inc. (The) news, major shareholder City Of London Investment Grou purchased 27,151 shares of Taiwan Fund, Inc. (The) stock in a transaction that occurred on Tuesday, July 18th. The stock was purchased at an average price of $20.20 per share, for a total transaction of $548,450.20. The purchase was disclosed in a filing with the SEC, which is available through this hyperlink. 2.00% of the stock is owned by corporate insiders.
About Taiwan Fund, Inc. (The)
The Taiwan Fund, Inc is a diversified, closed-end management investment company. The Fund's investment objective is to seek long-term capital appreciation through investment primarily in equity securities listed on the Taiwan Stock Exchange (TSE) in the Republic of China (ROC). The Fund invests in various sectors, including biotechnology and medical care; building material and construction; cement; chemical; communications and Internet; computer and peripheral equipment; electric and machinery; electronic parts and components; financial and insurance; foods; oil, gas and electricity; optoelectronic; plastics; semiconductor; shipping and transportation; textiles, and trading and consumers' goods.
Want to see what other hedge funds are holding TWN? Visit HoldingsChannel.com to get the latest 13F filings and insider trades for Taiwan Fund, Inc. (The) (NYSE:TWN).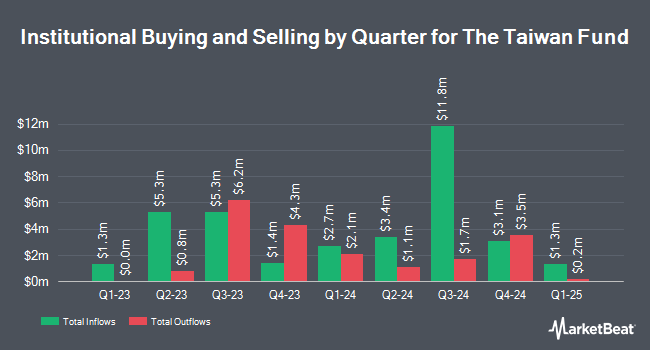 Receive News & Stock Ratings for Taiwan Fund Inc. (The) Daily - Enter your email address below to receive a concise daily summary of the latest news and analysts' ratings for Taiwan Fund Inc. (The) and related stocks with our FREE daily email newsletter.