NVE Corporation (NVEC) Announces Earnings Results
NVE Corporation (NASDAQ:NVEC) announced its quarterly earnings data on Wednesday. The semiconductor company reported $0.65 earnings per share (EPS) for the quarter, beating analysts' consensus estimates of $0.61 by $0.04, MarketWatch Earnings reports. The firm had revenue of $7.00 million during the quarter, compared to the consensus estimate of $7.10 million. NVE Corporation had a return on equity of 13.99% and a net margin of 44.85%.
NVE Corporation (NVEC) opened at 86.11 on Friday. The company has a market cap of $416.86 million, a P/E ratio of 31.77 and a beta of 1.22. The firm has a 50-day moving average price of $77.85 and a 200-day moving average price of $78.36. NVE Corporation has a 52 week low of $55.00 and a 52 week high of $88.34.
The firm also recently disclosed a quarterly dividend, which will be paid on Thursday, November 30th. Shareholders of record on Monday, October 30th will be paid a $1.00 dividend. The ex-dividend date of this dividend is Friday, October 27th. This represents a $4.00 dividend on an annualized basis and a yield of 4.65%. NVE Corporation's dividend payout ratio (DPR) is presently 149.81%.
ILLEGAL ACTIVITY WARNING: "NVE Corporation (NVEC) Announces Earnings Results" was first posted by The Cerbat Gem and is the sole property of of The Cerbat Gem. If you are viewing this piece on another website, it was illegally copied and reposted in violation of US and international copyright & trademark legislation. The correct version of this piece can be accessed at https://www.thecerbatgem.com/2017/10/20/nve-corporation-nvec-announces-earnings-results.html.
A number of research analysts have issued reports on the company. BidaskClub downgraded NVE Corporation from a "hold" rating to a "sell" rating in a research note on Friday, July 28th. Craig Hallum downgraded NVE Corporation from a "buy" rating to a "hold" rating and set a $79.00 price objective for the company. in a research note on Thursday, July 20th. They noted that the move was a valuation call. Finally, Zacks Investment Research upgraded NVE Corporation from a "sell" rating to a "hold" rating in a research note on Wednesday, July 12th.
NVE Corporation Company Profile
NVE Corporation develops and sells devices that use spintronics, a nanotechnology that relies on electron spin to acquire, store and transmit information. The Company manufactures spintronic products, including sensors and couplers that are used to acquire and transmit data. The Company has also licensed its spintronic magnetoresistive random access memory technology (MRAM).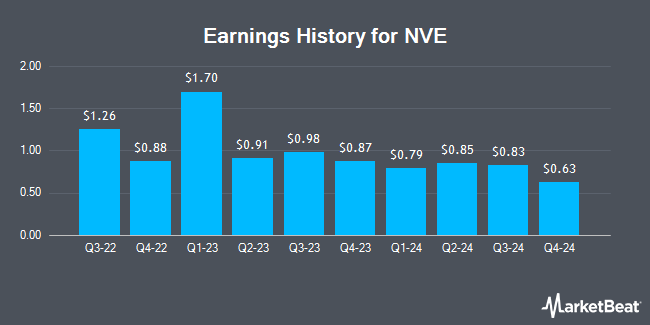 Receive News & Stock Ratings for NVE Corporation Daily - Enter your email address below to receive a concise daily summary of the latest news and analysts' ratings for NVE Corporation and related stocks with our FREE daily email newsletter.