Heroux Devtek Inc (HRX) Price Target Increased to C$15.50 by Analysts at TD Securities
Heroux Devtek Inc (TSE:HRX) had its target price boosted by TD Securities from C$14.50 to C$15.50 in a research note issued to investors on Tuesday morning. TD Securities currently has a hold rating on the stock.
HRX has been the subject of several other reports. Royal Bank Of Canada increased their price target on shares of Heroux Devtek from C$17.00 to C$18.00 and gave the stock an outperform rating in a research note on Tuesday, October 3rd. Raymond James Financial, Inc. increased their price target on shares of Heroux Devtek from C$13.00 to C$13.25 and gave the stock a market perform rating in a research note on Wednesday, August 9th. Scotiabank decreased their price target on shares of Heroux Devtek from C$15.00 to C$14.50 and set an outperform rating for the company in a research note on Tuesday, August 8th. Finally, Desjardins upgraded shares of Heroux Devtek from a hold rating to a buy rating and increased their price target for the stock from C$15.00 to C$18.00 in a research note on Tuesday, October 3rd. One research analyst has rated the stock with a hold rating and four have issued a buy rating to the company. The stock has a consensus rating of Buy and a consensus price target of C$17.17.
Shares of Heroux Devtek (HRX) traded up C$0.14 during trading on Tuesday, hitting C$15.03. 910 shares of the company traded hands, compared to its average volume of 33,629. Heroux Devtek has a 52 week low of C$11.06 and a 52 week high of C$16.05.
COPYRIGHT VIOLATION NOTICE: This news story was posted by The Cerbat Gem and is owned by of The Cerbat Gem. If you are reading this news story on another domain, it was illegally copied and reposted in violation of US & international trademark and copyright law. The legal version of this news story can be accessed at https://www.thecerbatgem.com/2017/11/08/heroux-devtek-inc-hrx-price-target-increased-to-c15-50-by-analysts-at-td-securities.html.
Heroux Devtek Company Profile
Heroux Devtek Inc is a Canada-based company engaged in the design, development, manufacture, repair and overhaul of landing gear and actuation systems and components for the aerospace market. It manufactures electronic enclosures, heat exchangers and cabinets for airborne radar, electro-optic systems and aircraft controls through its Magtron operations, as well as fluid filters products through its Bolton operations.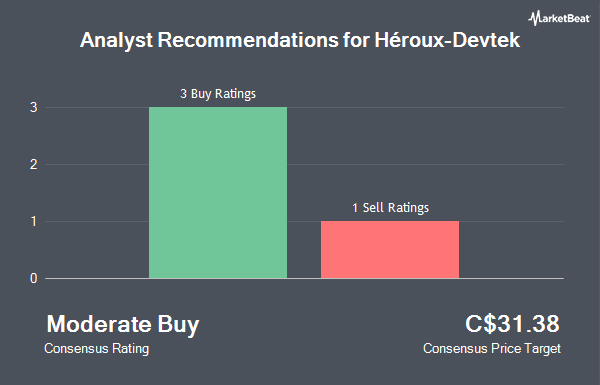 Receive News & Stock Ratings for Heroux Devtek Inc Daily - Enter your email address below to receive a concise daily summary of the latest news and analysts' ratings for Heroux Devtek Inc and related stocks with our FREE daily email newsletter.