Kennametal Inc. (KMT) To Go Ex-Dividend on November 13th
Kennametal Inc. (NYSE:KMT) announced a quarterly dividend on Wednesday, November 1st, RTT News reports. Stockholders of record on Tuesday, November 14th will be paid a dividend of 0.20 per share by the industrial products company on Wednesday, November 29th. This represents a $0.80 annualized dividend and a dividend yield of 1.76%. The ex-dividend date of this dividend is Monday, November 13th.
Kennametal has raised its dividend by an average of 5.6% per year over the last three years and has raised its dividend annually for the last 6 consecutive years. Kennametal has a dividend payout ratio of 33.3% indicating that its dividend is sufficiently covered by earnings. Analysts expect Kennametal to earn $2.78 per share next year, which means the company should continue to be able to cover its $0.80 annual dividend with an expected future payout ratio of 28.8%.
Shares of Kennametal (NYSE KMT) opened at $45.38 on Wednesday. The company has a debt-to-equity ratio of 0.63, a quick ratio of 1.41 and a current ratio of 2.71. The firm has a market capitalization of $3,712.42, a PE ratio of 23.52, a PEG ratio of 2.21 and a beta of 1.96. Kennametal has a 52 week low of $29.02 and a 52 week high of $48.89.
Kennametal (NYSE:KMT) last announced its earnings results on Wednesday, November 1st. The industrial products company reported $0.55 earnings per share for the quarter, beating the consensus estimate of $0.38 by $0.17. The company had revenue of $542.45 million during the quarter, compared to the consensus estimate of $516.80 million. Kennametal had a return on equity of 15.71% and a net margin of 5.18%. The company's revenue was up 13.6% on a year-over-year basis. During the same period last year, the firm earned $0.11 earnings per share. sell-side analysts predict that Kennametal will post 2.49 EPS for the current fiscal year.
In other Kennametal news, VP Charles Michael Jr. Byrnes bought 1,900 shares of the business's stock in a transaction on Friday, August 18th. The shares were purchased at an average price of $33.00 per share, with a total value of $62,700.00. The transaction was disclosed in a document filed with the Securities & Exchange Commission, which can be accessed through this hyperlink. Also, Director Steven H. Wunning sold 4,445 shares of the firm's stock in a transaction dated Friday, November 3rd. The stock was sold at an average price of $46.63, for a total transaction of $207,270.35. Following the completion of the transaction, the director now directly owns 29,693 shares in the company, valued at approximately $1,384,584.59. The disclosure for this sale can be found here. Insiders sold 15,015 shares of company stock worth $695,563 in the last three months. 2.00% of the stock is currently owned by corporate insiders.
WARNING: This piece of content was originally reported by The Cerbat Gem and is the sole property of of The Cerbat Gem. If you are reading this piece of content on another site, it was illegally stolen and republished in violation of US and international copyright legislation. The correct version of this piece of content can be read at https://www.thecerbatgem.com/2017/11/08/kennametal-inc-kmt-to-go-ex-dividend-on-november-13th.html.
Several brokerages have recently weighed in on KMT. TheStreet upgraded Kennametal from a "c+" rating to a "b" rating in a research note on Thursday, November 2nd. Jefferies Group LLC increased their price target on shares of Kennametal from $50.00 to $55.00 and gave the stock a "buy" rating in a research report on Friday, November 3rd. Credit Suisse Group increased their price target on shares of Kennametal from $40.00 to $45.00 and gave the stock a "neutral" rating in a research report on Friday, November 3rd. BMO Capital Markets reaffirmed a "hold" rating and set a $45.00 price target on shares of Kennametal in a research report on Friday, October 20th. Finally, Zacks Investment Research raised shares of Kennametal from a "hold" rating to a "buy" rating and set a $46.00 price target on the stock in a research report on Wednesday, October 4th. One equities research analyst has rated the stock with a sell rating, five have assigned a hold rating and seven have assigned a buy rating to the stock. Kennametal has an average rating of "Hold" and an average price target of $45.23.
About Kennametal
Kennametal Inc is a supplier of tooling, engineered components and materials consumed in production processes. The Company operates through two segments: Industrial and Infrastructure. The Industrial segment generally serves customers that operate in industrial end markets, such as transportation, general engineering, aerospace and defense.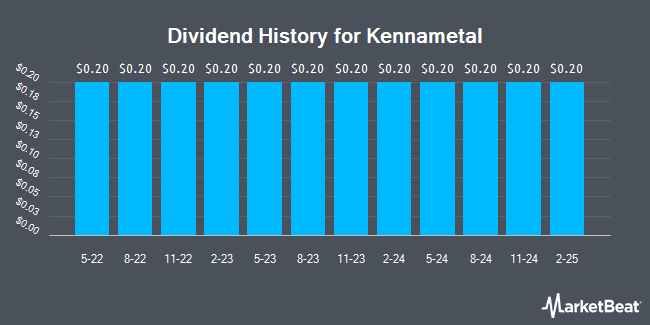 Receive News & Stock Ratings for Kennametal Inc. Daily - Enter your email address below to receive a concise daily summary of the latest news and analysts' ratings for Kennametal Inc. and related stocks with our FREE daily email newsletter.