Toromont Industries Ltd (TIH) Price Target Raised to C$63.00
Toromont Industries Ltd (TSE:TIH) had its price target raised by National Bank Financial from C$60.00 to C$63.00 in a report issued on Thursday morning. The firm currently has a sector perform rating on the stock. National Bank Financial also issued estimates for Toromont Industries' Q4 2017 earnings at $0.66 EPS, FY2017 earnings at $2.14 EPS and FY2018 earnings at $2.86 EPS.
Other equities research analysts also recently issued reports about the company. Raymond James Financial, Inc. increased their price target on Toromont Industries from C$58.50 to C$63.00 and gave the stock an outperform rating in a report on Thursday. Scotiabank increased their price target on Toromont Industries from C$53.00 to C$59.00 and gave the stock a sector perform rating in a report on Thursday. Canaccord Genuity increased their price target on Toromont Industries from C$50.00 to C$58.00 and gave the stock a buy rating in a report on Tuesday, August 29th. TD Securities upgraded Toromont Industries from a hold rating to a buy rating and increased their price target for the stock from C$48.00 to C$65.00 in a report on Wednesday, September 20th. Finally, BMO Capital Markets restated a market perform rating and issued a C$58.00 price target on shares of Toromont Industries in a report on Monday, October 16th. Four investment analysts have rated the stock with a hold rating and three have given a buy rating to the company's stock. The stock presently has a consensus rating of Hold and a consensus target price of C$57.63.
Shares of Toromont Industries (TSE:TIH) opened at C$56.34 on Thursday. Toromont Industries has a fifty-two week low of C$39.71 and a fifty-two week high of C$58.44.
TRADEMARK VIOLATION NOTICE: This article was first published by The Cerbat Gem and is the property of of The Cerbat Gem. If you are accessing this article on another publication, it was illegally stolen and republished in violation of US and international trademark and copyright legislation. The original version of this article can be viewed at https://www.thecerbatgem.com/2017/11/12/toromont-industries-ltd-tih-price-target-raised-to-c63-00.html.
In related news, insider David Allan Malinauskas sold 1,600 shares of the stock in a transaction that occurred on Wednesday, September 6th. The stock was sold at an average price of C$53.50, for a total transaction of C$85,600.00. Also, insider Paul Randolph Jewer sold 500 shares of the stock in a transaction that occurred on Friday, September 8th. The shares were sold at an average price of C$52.90, for a total value of C$26,450.00. Insiders have sold 35,348 shares of company stock valued at $1,936,950 over the last ninety days.
About Toromont Industries
Toromont Industries Ltd is a Canada-based company, which operates through two segments: Equipment Group and CIMCO. The Company's Equipment Group is involved in supply of specialized mobile equipment and industrial engines. It consists of businesses, including Toromont CAT, Battlefield-The CAT Rental Store, Sitech Mid-Canada Ltd., Toromont Energy Ltd.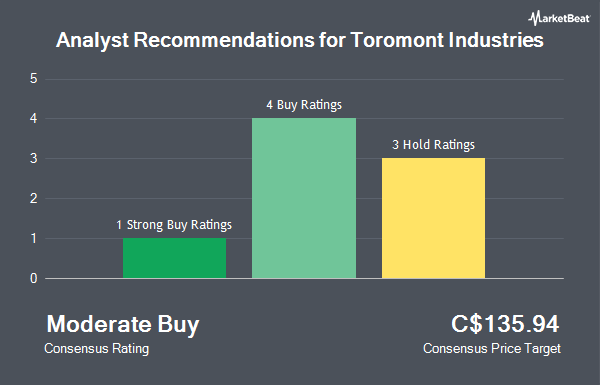 Receive News & Stock Ratings for Toromont Industries Ltd Daily - Enter your email address below to receive a concise daily summary of the latest news and analysts' ratings for Toromont Industries Ltd and related stocks with our FREE daily email newsletter.