Intertek Group plc (ITRK) Stock Rating Lowered by Kepler Capital Markets
Intertek Group plc (LON:ITRK) was downgraded by Kepler Capital Markets to a "hold" rating in a research report issued to clients and investors on Tuesday. They presently have a GBX 5,190 ($68.26) target price on the stock, up from their prior target price of GBX 5,130 ($67.47). Kepler Capital Markets' price target points to a potential downside of 1.98% from the company's previous close.
A number of other equities research analysts have also recently issued reports on the stock. Berenberg Bank reissued a "hold" rating on shares of Intertek Group plc in a research note on Thursday, October 12th. Jefferies Group LLC reissued a "buy" rating and issued a GBX 5,300 ($69.71) price target on shares of Intertek Group plc in a research note on Friday, October 13th. Shore Capital reissued a "sell" rating on shares of Intertek Group plc in a research note on Tuesday, August 8th. Finally, Barclays PLC reissued an "equal weight" rating and issued a GBX 4,350 ($57.21) price target on shares of Intertek Group plc in a research note on Wednesday, August 2nd. Five investment analysts have rated the stock with a sell rating, ten have given a hold rating and two have given a buy rating to the company. The company presently has a consensus rating of "Hold" and an average target price of GBX 4,077.93 ($53.64).
Shares of Intertek Group plc (LON:ITRK) opened at GBX 5,295 ($69.64) on Tuesday. Intertek Group plc has a one year low of GBX 3,079 ($40.50) and a one year high of GBX 5,470 ($71.95).
COPYRIGHT VIOLATION WARNING: This story was reported by The Cerbat Gem and is the sole property of of The Cerbat Gem. If you are accessing this story on another site, it was stolen and reposted in violation of US & international copyright legislation. The original version of this story can be read at https://www.thecerbatgem.com/2017/11/16/intertek-group-plc-itrk-stock-rating-lowered-by-kepler-capital-markets.html.
About Intertek Group plc
Intertek Group PLC is a United Kingdom-based company, which offers quality assurance services. The Company's segments include Products, Trade and Resources. The Products-related division consists of business lines that are focused on ensuring the quality and safety of physical components and products, as well minimizing risk through assessing the operating process and quality management systems of its customers.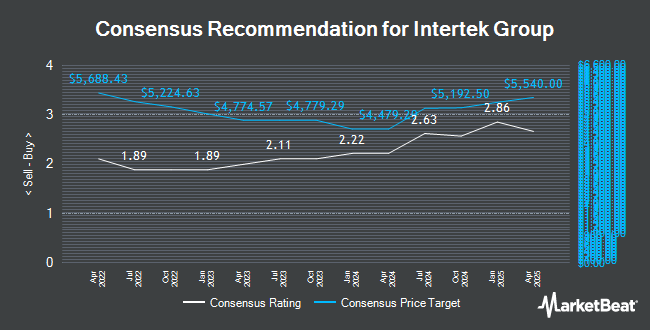 Receive News & Stock Ratings for Intertek Group plc Daily - Enter your email address below to receive a concise daily summary of the latest news and analysts' ratings for Intertek Group plc and related stocks with our FREE daily email newsletter.