PVH Corp. Declares Quarterly Dividend of $0.04 (PVH)
PVH Corp. (NYSE:PVH) announced a quarterly dividend on Tuesday, October 24th, Zacks reports. Shareholders of record on Wednesday, November 22nd will be paid a dividend of 0.038 per share by the textile maker on Wednesday, December 20th. This represents a $0.15 dividend on an annualized basis and a yield of 0.12%. The ex-dividend date is Tuesday, November 21st.
PVH Corp. has a dividend payout ratio of 1.9% indicating that its dividend is sufficiently covered by earnings. Analysts expect PVH Corp. to earn $8.83 per share next year, which means the company should continue to be able to cover its $0.15 annual dividend with an expected future payout ratio of 1.7%.
Shares of PVH Corp. (PVH) traded up $0.05 during midday trading on Thursday, reaching $126.88. The company's stock had a trading volume of 798,300 shares, compared to its average volume of 1,009,889. PVH Corp. has a 12-month low of $84.53 and a 12-month high of $133.24. The company has a current ratio of 1.80, a quick ratio of 0.88 and a debt-to-equity ratio of 0.63. The firm has a market cap of $9,819.74, a price-to-earnings ratio of 17.69, a PEG ratio of 1.26 and a beta of 0.59.
PVH Corp. (NYSE:PVH) last issued its quarterly earnings data on Wednesday, August 23rd. The textile maker reported $1.69 earnings per share for the quarter, beating analysts' consensus estimates of $1.65 by $0.04. The firm had revenue of $2.07 billion during the quarter, compared to analyst estimates of $2.02 billion. PVH Corp. had a return on equity of 11.67% and a net margin of 4.96%. PVH Corp.'s quarterly revenue was up 7.1% on a year-over-year basis. During the same quarter last year, the firm earned $1.47 EPS. equities analysts anticipate that PVH Corp. will post 7.73 EPS for the current year.
In other news, EVP Mark D. Fischer sold 5,589 shares of PVH Corp. stock in a transaction on Tuesday, September 5th. The stock was sold at an average price of $128.47, for a total transaction of $718,018.83. The sale was disclosed in a filing with the SEC, which is available at this link. Also, EVP David F. Kozel sold 8,867 shares of the business's stock in a transaction dated Friday, August 25th. The shares were sold at an average price of $125.19, for a total value of $1,110,059.73. The disclosure for this sale can be found here. Insiders have sold 39,307 shares of company stock worth $4,980,787 over the last ninety days. 1.30% of the stock is owned by insiders.
Several research analysts have recently commented on the company. B. Riley reiterated a "buy" rating on shares of PVH Corp. in a research report on Wednesday, November 1st. Cowen and Company set a $140.00 target price on PVH Corp. and gave the stock a "buy" rating in a research report on Friday, August 11th. BidaskClub upgraded PVH Corp. from a "buy" rating to a "strong-buy" rating in a research report on Thursday, August 10th. Piper Jaffray Companies restated a "buy" rating and set a $148.00 price objective on shares of PVH Corp. in a research report on Sunday, October 1st. Finally, Bank of America Corporation initiated coverage on PVH Corp. in a research report on Thursday, August 3rd. They set a "buy" rating and a $146.00 price objective for the company. Six investment analysts have rated the stock with a hold rating and fourteen have given a buy rating to the company's stock. The company currently has a consensus rating of "Buy" and a consensus price target of $138.71.
WARNING: This news story was posted by The Cerbat Gem and is the property of of The Cerbat Gem. If you are viewing this news story on another domain, it was illegally stolen and republished in violation of US & international trademark and copyright legislation. The original version of this news story can be read at https://www.thecerbatgem.com/2017/11/16/pvh-corp-declares-quarterly-dividend-of-0-04-pvh.html.
PVH Corp. Company Profile
PVH Corp. is an apparel company. The Company operates through three segments: Calvin Klein, which consists of the Calvin Klein North America and Calvin Klein International segments; Tommy Hilfiger, which consists of the Tommy Hilfiger North America and Tommy Hilfiger International segments, and Heritage Brands, which consists of the Heritage Brands Wholesale and Heritage Brands Retail segments.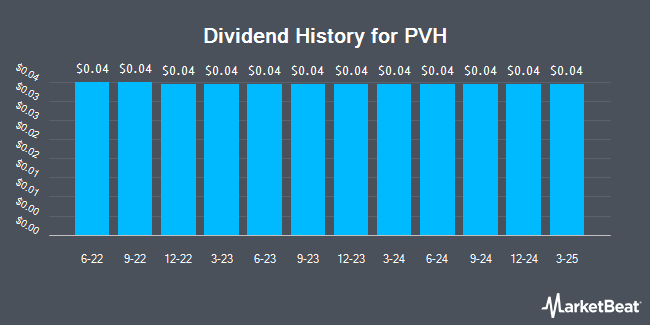 Receive News & Stock Ratings for PVH Corp. Daily - Enter your email address below to receive a concise daily summary of the latest news and analysts' ratings for PVH Corp. and related stocks with our FREE daily email newsletter.