Debenhams plc's (DEB) Hold Rating Reiterated at Deutsche Bank AG
Deutsche Bank AG restated their hold rating on shares of Debenhams plc (LON:DEB) in a research report sent to investors on Tuesday. They currently have a GBX 45 ($0.59) price objective on the stock.
DEB has been the topic of several other research reports. Numis Securities Ltd reiterated a hold rating and set a GBX 45 ($0.59) price target on shares of Debenhams plc in a report on Monday, October 30th. Liberum Capital downgraded Debenhams plc to a sell rating and lowered their price target for the company from GBX 58 ($0.76) to GBX 40 ($0.53) in a report on Wednesday, November 1st. J P Morgan Chase & Co reiterated an underweight rating and set a GBX 38 ($0.50) price target on shares of Debenhams plc in a report on Friday, October 27th. Jefferies Group LLC reiterated a hold rating and set a GBX 47 ($0.62) price target on shares of Debenhams plc in a report on Friday, October 27th. Finally, Peel Hunt restated a hold rating and issued a GBX 55 ($0.72) price objective on shares of Debenhams plc in a research note on Tuesday, September 19th. Six equities research analysts have rated the stock with a sell rating, seven have assigned a hold rating and one has given a buy rating to the company. The company currently has an average rating of Hold and an average target price of GBX 46.93 ($0.62).
Debenhams plc (DEB) opened at GBX 37.25 ($0.49) on Tuesday. Debenhams plc has a 52-week low of GBX 37 ($0.49) and a 52-week high of GBX 59.01 ($0.78).
COPYRIGHT VIOLATION WARNING: This story was first posted by The Cerbat Gem and is the property of of The Cerbat Gem. If you are reading this story on another site, it was illegally copied and reposted in violation of United States and international trademark & copyright legislation. The original version of this story can be accessed at https://www.thecerbatgem.com/2017/11/24/debenhams-plcs-deb-hold-rating-reiterated-at-deutsche-bank-ag.html.
The company also recently announced a dividend, which will be paid on Friday, January 19th. Investors of record on Thursday, December 7th will be given a GBX 2.40 ($0.03) dividend. This is a boost from Debenhams plc's previous dividend of $1.03. This represents a yield of 5.71%. The ex-dividend date is Thursday, December 7th.
About Debenhams plc
Debenhams plc is a United Kingdom-based company, which is engaged in multi-channel business. The Company's brand trades through approximately 240 stores in 27 countries. The Company's segments are UK and International. The UK segment consists of stores in the United Kingdom and online sales to the United Kingdom addresses.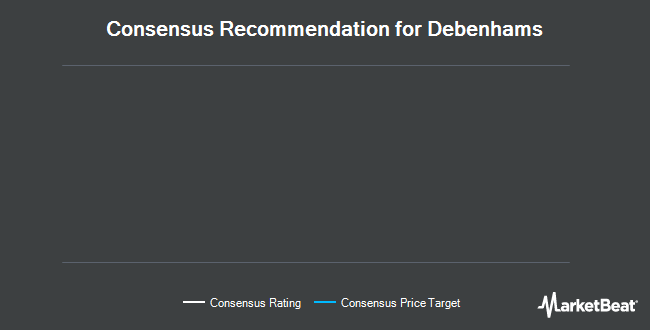 Receive News & Stock Ratings for Debenhams plc Daily - Enter your email address below to receive a concise daily summary of the latest news and analysts' ratings for Debenhams plc and related stocks with our FREE daily email newsletter.