Pentair PLC. (PNR) Declares Dividend Increase – $0.35 Per Share
Pentair PLC. (NYSE:PNR) announced a quarterly dividend on Tuesday, December 5th, Zacks reports. Shareholders of record on Friday, January 26th will be given a dividend of 0.35 per share by the industrial products company on Friday, February 9th. This represents a $1.40 dividend on an annualized basis and a yield of 2.04%. The ex-dividend date of this dividend is Thursday, January 25th. This is a positive change from Pentair's previous quarterly dividend of $0.35.
Pentair has raised its dividend by an average of 11.8% annually over the last three years and has raised its dividend every year for the last 40 years. Pentair has a dividend payout ratio of 39.1% meaning its dividend is sufficiently covered by earnings. Equities research analysts expect Pentair to earn $3.95 per share next year, which means the company should continue to be able to cover its $1.38 annual dividend with an expected future payout ratio of 34.9%.
Shares of Pentair (PNR) traded down $0.61 on Wednesday, hitting $68.55. The company's stock had a trading volume of 736,900 shares, compared to its average volume of 984,468. The firm has a market capitalization of $12,559.28, a PE ratio of 20.46, a PEG ratio of 1.84 and a beta of 1.41. Pentair has a 12 month low of $55.76 and a 12 month high of $71.76. The company has a debt-to-equity ratio of 0.30, a quick ratio of 1.05 and a current ratio of 1.59.
Pentair (NYSE:PNR) last issued its quarterly earnings data on Tuesday, October 24th. The industrial products company reported $0.95 EPS for the quarter, topping the Zacks' consensus estimate of $0.93 by $0.02. The company had revenue of $1.23 billion for the quarter, compared to analysts' expectations of $1.23 billion. Pentair had a return on equity of 13.39% and a net margin of 12.50%. The firm's quarterly revenue was up 1.3% on a year-over-year basis. During the same quarter in the previous year, the firm posted $0.78 earnings per share. analysts predict that Pentair will post 3.53 EPS for the current year.
A number of research analysts have commented on the company. Zacks Investment Research upgraded Pentair from a "hold" rating to a "buy" rating and set a $77.00 price objective on the stock in a research note on Tuesday. Jefferies Group restated a "hold" rating and set a $59.00 price objective on shares of Pentair in a research note on Thursday, September 21st. BMO Capital Markets boosted their price objective on Pentair from $78.00 to $79.00 and gave the stock a "market perform" rating in a research note on Wednesday, October 25th. Stifel Nicolaus restated a "hold" rating and set a $67.00 price objective on shares of Pentair in a research note on Wednesday, October 4th. Finally, Robert W. Baird restated a "hold" rating and set a $70.00 price objective on shares of Pentair in a research note on Wednesday, October 4th. Four equities research analysts have rated the stock with a sell rating, seven have issued a hold rating and seven have assigned a buy rating to the company's stock. The company has a consensus rating of "Hold" and a consensus price target of $70.67.
In related news, Director Ronald Merriman sold 5,200 shares of the business's stock in a transaction dated Thursday, September 28th. The stock was sold at an average price of $67.00, for a total value of $348,400.00. Following the transaction, the director now owns 21,538 shares in the company, valued at $1,443,046. The transaction was disclosed in a legal filing with the SEC, which is available at this hyperlink. Also, Director Trian Fund Management, L.P. purchased 9,966 shares of the business's stock in a transaction that occurred on Monday, November 27th. The stock was acquired at an average price of $69.22 per share, for a total transaction of $689,846.52. Following the purchase, the director now owns 1,122 shares of the company's stock, valued at approximately $77,664.84. The disclosure for this purchase can be found here. In the last quarter, insiders sold 217,632 shares of company stock worth $14,783,286. Insiders own 9.90% of the company's stock.
TRADEMARK VIOLATION NOTICE: This article was posted by The Cerbat Gem and is the property of of The Cerbat Gem. If you are accessing this article on another domain, it was stolen and reposted in violation of US & international trademark and copyright laws. The correct version of this article can be viewed at https://www.thecerbatgem.com/2017/12/06/pentair-plc-pnr-declares-dividend-increase-0-35-per-share.html.
Pentair Company Profile
Pentair, Inc (Pentair) is a focused diversified industrial manufacturing company. The Company operates in two segments: Water & Fluid Solutions and Technical Products. Water & Fluid Solutions is providing products and systems used worldwide in the movement, storage and treatment of water. Technical Products is engaged in the global enclosures and thermal management markets, designing and manufacturing standard, modified and custom enclosures that house and protect sensitive electronics and electrical components and protect the people that use them.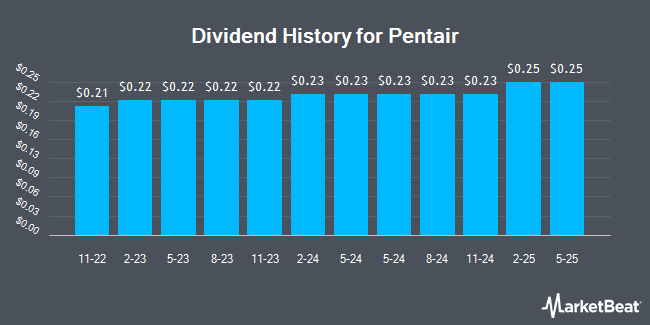 Receive News & Stock Ratings for Pentair PLC. Daily - Enter your email address below to receive a concise daily summary of the latest news and analysts' ratings for Pentair PLC. and related stocks with our FREE daily email newsletter.