Silvercorp Metals Inc (SVM) Insider Silvercorp Metals Inc. Acquires 136,400 Shares
Silvercorp Metals Inc (TSE:SVM) insider Silvercorp Metals Inc. bought 136,400 shares of the stock in a transaction dated Wednesday, December 6th. The shares were acquired at an average price of C$2.83 per share, for a total transaction of C$386,012.00.
Silvercorp Metals Inc. also recently made the following trade(s):
On Friday, December 8th, Silvercorp Metals Inc. purchased 140,000 shares of Silvercorp Metals stock. The shares were purchased at an average cost of C$2.87 per share, with a total value of C$401,800.00.
Shares of Silvercorp Metals Inc (TSE SVM) traded up C$0.06 during trading hours on Friday, hitting C$2.88. The stock had a trading volume of 249,781 shares, compared to its average volume of 758,196. Silvercorp Metals Inc has a 1-year low of C$2.72 and a 1-year high of C$5.90.
The firm also recently announced a Semi-Annual dividend, which will be paid on Tuesday, December 19th. Shareholders of record on Tuesday, November 28th will be given a $0.013 dividend. This represents a dividend yield of 0.31%. The ex-dividend date of this dividend is Monday, November 27th. Silvercorp Metals's payout ratio is 4.85%.
Separately, Roth Capital reissued a "buy" rating on shares of Silvercorp Metals in a research note on Monday, August 28th.
COPYRIGHT VIOLATION NOTICE: "Silvercorp Metals Inc (SVM) Insider Silvercorp Metals Inc. Acquires 136,400 Shares" was reported by The Cerbat Gem and is the sole property of of The Cerbat Gem. If you are accessing this piece of content on another site, it was illegally stolen and reposted in violation of US & international trademark & copyright laws. The original version of this piece of content can be read at https://www.thecerbatgem.com/2017/12/08/silvercorp-metals-inc-svm-insider-silvercorp-metals-inc-acquires-136400-shares.html.
Silvercorp Metals Company Profile
Silvercorp Metals Inc (Silvercorp) is a silver-producing Canadian mining company. The Company is engaged in the acquisition, exploration, development, and mining of silver-related mineral properties in China. The Company's segments include Mining, including projects, such as Henan Luoning, Hunan, Guangdong and Other, and Administrative, which includes Beijing and Vancouver.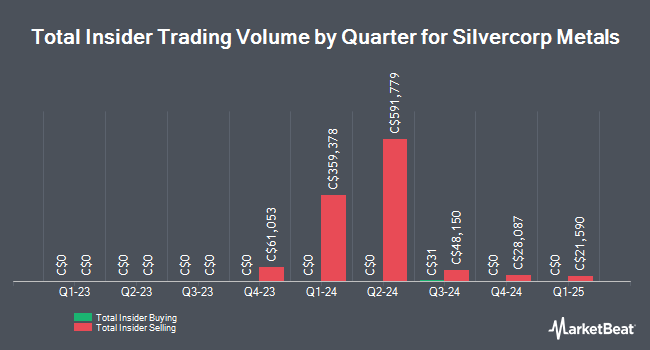 Receive News & Stock Ratings for Silvercorp Metals Inc Daily - Enter your email address below to receive a concise daily summary of the latest news and analysts' ratings for Silvercorp Metals Inc and related stocks with our FREE daily email newsletter.