WD-40 (WDFC) Plans Quarterly Dividend of $0.54
WD-40 (NASDAQ:WDFC) declared a quarterly dividend on Tuesday, December 12th, RTT News reports. Shareholders of record on Friday, January 19th will be given a dividend of 0.54 per share by the specialty chemicals company on Wednesday, January 31st. This represents a $2.16 annualized dividend and a yield of 1.81%. This is an increase from WD-40's previous quarterly dividend of $0.49.
Shares of WD-40 (NASDAQ WDFC) traded down $0.80 during mid-day trading on Tuesday, hitting $119.50. 47,000 shares of the stock traded hands, compared to its average volume of 65,273. The company has a debt-to-equity ratio of 0.96, a quick ratio of 2.51 and a current ratio of 2.98. WD-40 has a 52-week low of $100.60 and a 52-week high of $122.65. The firm has a market cap of $1,679.91, a price-to-earnings ratio of 32.34, a P/E/G ratio of 3.13 and a beta of 0.67.
WD-40 (NASDAQ:WDFC) last issued its quarterly earnings data on Thursday, October 19th. The specialty chemicals company reported $1.01 EPS for the quarter, topping the consensus estimate of $0.97 by $0.04. WD-40 had a net margin of 13.91% and a return on equity of 39.82%. The firm had revenue of $96.60 million for the quarter, compared to analyst estimates of $106.01 million. During the same period in the prior year, the business posted $0.99 EPS. The business's revenue for the quarter was down .6% compared to the same quarter last year. analysts forecast that WD-40 will post 3.85 EPS for the current fiscal year.
Several equities analysts have recently commented on the stock. BidaskClub lowered shares of WD-40 from a "buy" rating to a "hold" rating in a report on Tuesday. FBR & Co restated a "neutral" rating and issued a $122.00 price objective (up from $115.00) on shares of WD-40 in a report on Friday, October 20th. B. Riley restated a "neutral" rating on shares of WD-40 in a report on Wednesday, November 1st. Finally,
Zacks Investment Research
lowered shares of WD-40 from a "hold" rating to a "sell" rating in a report on Tuesday, October 24th. One research analyst has rated the stock with a sell rating and four have given a hold rating to the stock. The company presently has an average rating of "Hold" and a consensus price target of $117.25.
In related news, VP Jay Rembolt sold 582 shares of the company's stock in a transaction that occurred on Thursday, September 14th. The shares were sold at an average price of $110.00, for a total transaction of $64,020.00. Following the sale, the vice president now directly owns 37,632 shares of the company's stock, valued at approximately $4,139,520. The sale was disclosed in a legal filing with the SEC, which is available through this link. 3.62% of the stock is owned by corporate insiders.
TRADEMARK VIOLATION WARNING: This article was first reported by The Cerbat Gem and is the property of of The Cerbat Gem. If you are viewing this article on another site, it was copied illegally and reposted in violation of US & international copyright & trademark laws. The correct version of this article can be viewed at https://www.thecerbatgem.com/2017/12/12/wd-40-wdfc-plans-quarterly-dividend-of-0-54.html.
WD-40 Company Profile
WD-40 Company is a global company engaged in developing and selling products, which solve problems in workshops, factories and homes. The Company's segments include the Americas; Europe, Middle East and Africa (EMEA), and Asia-Pacific. The Company's Americas segment includes the United States, Canada and Latin America.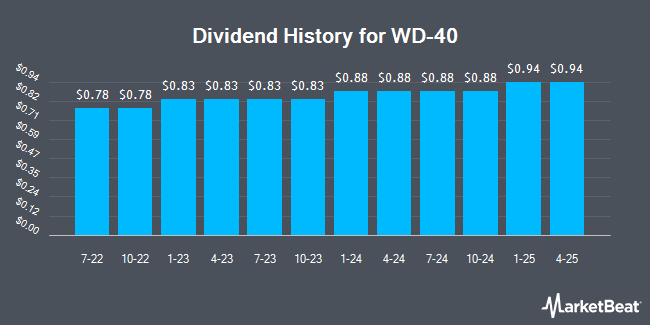 Receive News & Ratings for WD-40 Daily - Enter your email address below to receive a concise daily summary of the latest news and analysts' ratings for WD-40 and related companies with MarketBeat.com's FREE daily email newsletter.