Monroe Capital Corp (MRCC) to Issue Quarterly Dividend of $0.35 on December 29th
Monroe Capital Corp (NASDAQ:MRCC) announced a quarterly dividend on Monday, December 4th, Wall Street Journal reports. Stockholders of record on Friday, December 15th will be paid a dividend of 0.35 per share by the financial services provider on Friday, December 29th. This represents a $1.40 annualized dividend and a dividend yield of 9.79%. The ex-dividend date is Thursday, December 14th.
Shares of Monroe Capital (MRCC) traded up $0.07 during midday trading on Wednesday, hitting $14.30. The stock had a trading volume of 146,100 shares, compared to its average volume of 98,846. The company has a quick ratio of 1.01, a current ratio of 1.01 and a debt-to-equity ratio of 0.52. Monroe Capital has a 1-year low of $13.32 and a 1-year high of $16.20. The firm has a market cap of $288.02, a price-to-earnings ratio of 10.16 and a beta of 0.56.
Several equities research analysts have recently weighed in on MRCC shares. TheStreet raised Monroe Capital from a "c+" rating to a "b" rating in a research report on Monday, November 27th. Zacks Investment Research raised Monroe Capital from a "sell" rating to a "hold" rating in a research report on Thursday, November 9th. Finally, National Securities restated a "buy" rating and set a $17.00 price target on shares of Monroe Capital in a research note on Monday, November 13th. One analyst has rated the stock with a sell rating, two have given a hold rating and three have given a buy rating to the company. Monroe Capital has an average rating of "Hold" and a consensus target price of $16.50.
COPYRIGHT VIOLATION NOTICE: "Monroe Capital Corp (MRCC) to Issue Quarterly Dividend of $0.35 on December 29th" was first posted by The Cerbat Gem and is the property of of The Cerbat Gem. If you are viewing this piece of content on another domain, it was stolen and reposted in violation of U.S. & international copyright & trademark law. The original version of this piece of content can be accessed at https://www.thecerbatgem.com/2017/12/13/monroe-capital-corp-mrcc-to-issue-quarterly-dividend-of-0-35-on-december-29th.html.
Monroe Capital Company Profile
Monroe Capital Corporation is a closed-end, non-diversified management investment company. The Company is a specialty finance company focused on providing financing primarily to lower middle-market companies in the United States and Canada. The Company's investment objective is to maximize the total return to its stockholders in the form of current income and capital appreciation primarily through investments in senior, unitranche and junior secured debt, and unsecured subordinated debt and equity.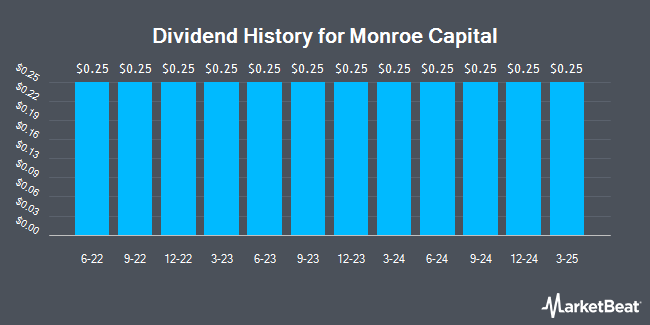 Receive News & Stock Ratings for Monroe Capital Daily - Enter your email address below to receive a concise daily summary of the latest news and analysts' ratings for Monroe Capital and related stocks with our FREE daily email newsletter.