Royce & Associates LP Buys 81,296 Shares of Synalloy Corporation (SYNL)
Royce & Associates LP grew its stake in Synalloy Corporation (NASDAQ:SYNL) by 12.7% in the 3rd quarter, according to its most recent filing with the SEC. The firm owned 721,748 shares of the industrial products company's stock after buying an additional 81,296 shares during the quarter. Royce & Associates LP owned 8.27% of Synalloy worth $9,022,000 as of its most recent filing with the SEC.
Separately, Dimensional Fund Advisors LP boosted its stake in shares of Synalloy by 4.2% in the 3rd quarter. Dimensional Fund Advisors LP now owns 391,904 shares of the industrial products company's stock valued at $4,899,000 after buying an additional 15,950 shares during the period. Institutional investors and hedge funds own 48.20% of the company's stock.
In related news, insider Privet Fund Management Llc acquired 16,104 shares of the firm's stock in a transaction dated Tuesday, September 26th. The stock was acquired at an average price of $11.90 per share, for a total transaction of $191,637.60. Following the purchase, the insider now owns 49,086 shares of the company's stock, valued at approximately $584,123.40. The transaction was disclosed in a filing with the SEC, which can be accessed through this link. Company insiders own 10.60% of the company's stock.
Synalloy Corporation (
NASDAQ SYNL
) opened at $12.95 on Friday. The company has a debt-to-equity ratio of 0.30, a current ratio of 3.18 and a quick ratio of 1.14. The stock has a market capitalization of $112.16, a PE ratio of 67.63 and a beta of 0.14. Synalloy Corporation has a 52 week low of $9.75 and a 52 week high of $15.30.
Synalloy (NASDAQ:SYNL) last announced its quarterly earnings data on Tuesday, November 7th. The industrial products company reported $0.10 earnings per share (EPS) for the quarter. The business had revenue of $54.60 million during the quarter. Synalloy had a positive return on equity of 1.85% and a negative net margin of 0.59%.
WARNING: This article was first reported by The Cerbat Gem and is the property of of The Cerbat Gem. If you are viewing this article on another domain, it was copied illegally and reposted in violation of U.S. and international trademark & copyright laws. The legal version of this article can be accessed at https://www.thecerbatgem.com/2017/12/15/royce-associates-lp-buys-81296-shares-of-synalloy-corporation-synl.html.
Synalloy Company Profile
Synalloy Corporation is a chemical manufacturing company. The Company operates through two segments: the Metals Segment and the Specialty Chemicals Segment. The Company's Metals Segment comprises three subsidiaries: Synalloy Metals, Inc, which owns Bristol Metals, LLC (BRISMET), located in Bristol, Tennessee; Palmer of Texas Tanks, Inc (Palmer), located in Andrews, Texas; and Specialty Pipe & Tube, Inc (Specialty), located in Mineral Ridge, Ohio and Houston, Texas.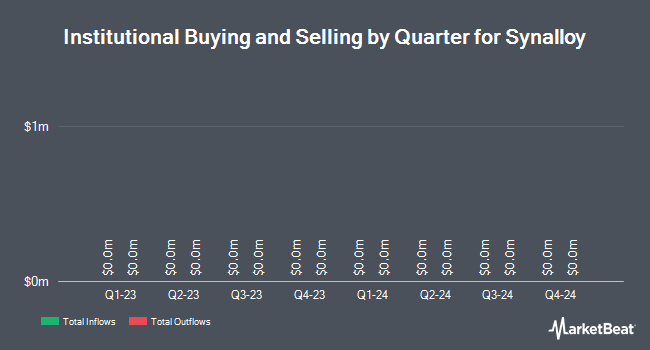 Receive News & Stock Ratings for Synalloy Daily - Enter your email address below to receive a concise daily summary of the latest news and analysts' ratings for Synalloy and related stocks with our FREE daily email newsletter.