Mitie Group (MTO) PT Lowered to GBX 205
Mitie Group (LON:MTO) had its price objective lowered by equities researchers at Peel Hunt from GBX 253 ($3.41) to GBX 205 ($2.76) in a report released on Tuesday. The firm presently has a "hold" rating on the stock. Peel Hunt's target price suggests a potential upside of 8.47% from the company's previous close.
MTO has been the topic of a number of other research reports. Numis Securities reiterated a "reduce" rating and issued a GBX 175 ($2.36) price target on shares of Mitie Group in a report on Friday, December 15th. Liberum Capital reiterated a "buy" rating and issued a GBX 300 ($4.04) price target on shares of Mitie Group in a report on Wednesday, September 20th. Jefferies Group upgraded shares of Mitie Group to a "buy" rating and lifted their price target for the company from GBX 220 ($2.96) to GBX 290 ($3.90) in a report on Monday, November 6th. Finally, Canaccord Genuity reiterated a "buy" rating and issued a GBX 300 ($4.04) price target on shares of Mitie Group in a report on Friday, December 15th. Two research analysts have rated the stock with a sell rating, two have given a hold rating and three have given a buy rating to the company's stock. The company has an average rating of "Hold" and an average target price of GBX 232 ($3.12).
Mitie Group (MTO) opened at GBX 189 ($2.54) on Tuesday. Mitie Group has a 1-year low of GBX 170 ($2.29) and a 1-year high of GBX 313.50 ($4.22).
Mitie Group (LON:MTO) last announced its quarterly earnings results on Monday, November 20th. The company reported GBX 5.20 ($0.07) earnings per share for the quarter, missing the Zacks' consensus estimate of GBX 7 ($0.09) by GBX (1.80) (($0.02)). The company had revenue of £959.70 million during the quarter. Mitie Group had a net margin of 0.53% and a return on equity of 9.08%.
In other Mitie Group news, insider Derek Mapp bought 40,000 shares of Mitie Group stock in a transaction that occurred on Wednesday, November 29th. The shares were acquired at an average price of GBX 204 ($2.75) per share, for a total transaction of £81,600 ($109,825.03).
ILLEGAL ACTIVITY WARNING: This story was first reported by The Cerbat Gem and is owned by of The Cerbat Gem. If you are accessing this story on another domain, it was illegally stolen and republished in violation of United States & international trademark & copyright laws. The original version of this story can be accessed at https://www.thecerbatgem.com/2017/12/21/mitie-group-mto-pt-lowered-to-gbx-205.html.
About Mitie Group
Mitie Group plc is a holding company. The Company is engaged in providing management services. The Company focuses on providing strategic outsourcing services. The Company operates through various segments, including Soft FM, Hard FM and Property Management. The Company's Soft FM segment includes cleaning and environmental services, security, catering and front of house services.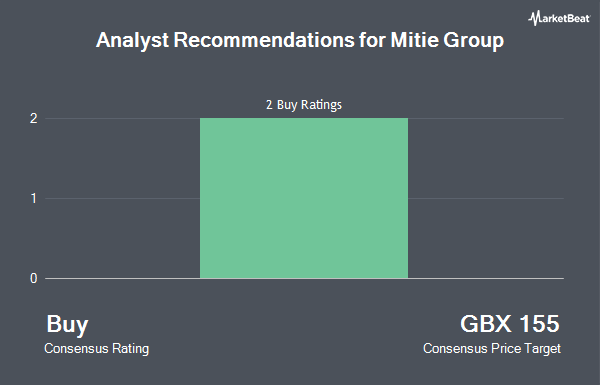 Receive News & Ratings for Mitie Group Daily - Enter your email address below to receive a concise daily summary of the latest news and analysts' ratings for Mitie Group and related companies with MarketBeat.com's FREE daily email newsletter.